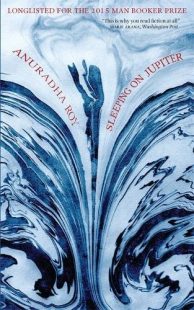 The next title as part of our GWL Digital Book Group is Sleeping on Jupiter by Anuradha Roy, winner of the 2016 DSC Prize for South Asian Literature. This is a stark and unflinching novel by a spellbinding storyteller, about religion, love and violence in the modern world.
A train stops at a railway station. A young woman jumps off. She has wild hair, sloppy clothes, a distracted air. She looks Indian, yet she is somehow not. The sudden violence of what happens next leaves the other passengers gasping.
The train terminates at Jarmuli, a temple town by the sea. Here, among pilgrims, priests and ashrams, three old women disembark only to encounter the girl once again. What is someone like her doing in this remote corner, which attracts only worshippers?
Over the next five days, the old women live out their long-planned dream of a holiday together; their temple guide finds ecstasy in forbidden love; and the girl is joined by a photographer battling his own demons.
The full force of the evil and violence beneath the serene surface of the town becomes evident when their lives overlap and collide. Unexpected connections are revealed between devotion and violence, friendship and fear, as Jarmuli is revealed as a place with a long, dark past that transforms all who encounter it.
How to Get Involved
We'll be posting updates and related content to this blog. You can find all of the posts so far here.
On Twitter, keep an eye on the #GWLBookGroup hashtag for all related tweets and please do share your own thoughts and insights. We'll be running two Twitter chats around Sleeping on Jupiter at the end of the month on Wednesday 30th August at 1pm and 7pm. These chats will feature the same starting questions but you are welcome to join in on both.
Facebook Group
On Facebook we've created a new closed group where we can gather all of the content and discussions. To join, simply request to join the group and we'll approve your request to give you access.
Questions for the Author
Anuradha Roy has very kindly agreed to answer some of our questions! So get thinking as you read the novel and if you have any questions you'd like to ask the author, simply send an email to hannah.wright@womenslibrary.org.uk and we'll send them on.
Happy reading!