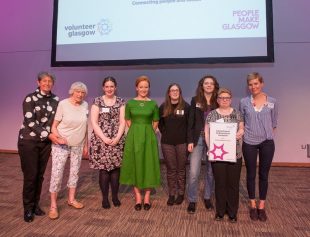 We were totally delighted that our Volunteer Programme was shortlisted for the Alistair Malloy Inspire Award in the category of Commitment to Diversity and Inclusion.   While obviously disappointed not to win, we are genuinely pleased for our sister organisation Maryhill Integration Network, joint winner with the Police Scotland Youth Volunteer programme. We're huge supporters of their work which brings communities together through art, social, cultural and educational activities and projects.
Volunteers and staff had a brilliant evening at the Awards Ceremony on 1st June, taking time to celebrate and reflect on how diverse and wonderful all our volunteers are, and feeling incredibly proud of our organisation which gives women from all backgrounds a voice and a role to play in the Library and in wider society.
We thought you'd like to see this short video which was made as part of the nomination process (courtesy of Chris Adams chris@scotvis.com) and includes interviews with two of our volunteers, Louisina Currie and Claire Heuchan, and Creative Development Manager (and former GWL volunteer) Adele Patrick.
For more information about our Volunteer Programme please follow this link.