In May, the Seeing Things group went on three trips, all of which were a-May-zing! (Geddit?!)
We were extremely lucky to receive free tickets from the National Theatre of Scotland to the excellent play, The 306: Day. Directed by Jemima Levick, this is the second part of Oliver Emanuel and Gareth Williams's trilogy First World War Trilogy. Presented by the National Theatre of Scotland, Perth Theatre, and Stellar Quines, the play is based on real events and testimonies, and follows the lives of three ordinary women during World War I. Members of Seeing Things joined Donna and other GWL members on this trip, which presented fascinating women's stories and was enjoyed by everyone who went along.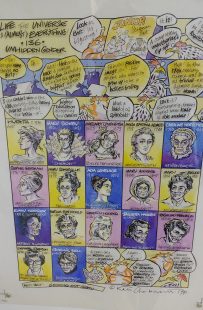 Earlier in the month, myself, Joyce, and Margaret went to Unlimited Studios in Partick, for the opening night of BLAMM!, an exhibition of work by Kate Charlesworth, a brilliant, Edinburgh-based cartoonist, illustrator, and writer. The show spanned her whole career and it was incredible just how much there was to see, and how educational a lot of it was! There was an entire wall devoted to Charlesworth's work on The Cartoon History of Time, a graphic novel written by John Gribbin, which explains Stephen Hawking's A Brief History of Time in a way that's much easier for most of us to get our heads around! Margaret was keen to pick up a copy for her grandson, to help him learn something new in an entertaining, fun, and funny format. There was so much on display that it was a bit mindblowing (to use Joyce's word!), and it'd be well looking at the graphic novel itself to really be able to take everything in.
Also on display were many of the strips Charlesworth has produced for publications like Diva, Spitting Image, and New Scientist, as well as a selection of the art she drew for Sally Heathcote: Suffragette. This is another graphic novel, written by Mary Talbot and Bryan Talbot, and brought to life by Charlesworth's beautiful artwork. The book tells the story of a fictional suffragette called Sally Heathcote and is well worth reading, even if you're not familiar with the graphic novel format or don't know very much about the suffrage movement.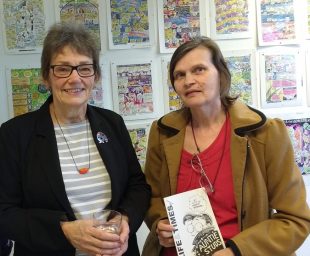 Charlesworth gave a short speech later in the evening, noting the importance of humour and art to political development and struggles. So much of her work is funny that it can be easy to forget its political and social importance, especially in terms of representation of LGBTQ+ people. Referring to her alter-ego, Auntie Studs, Charlesworth commented,
it's frivolous, but it's proof that we were here.
I thought it was a lovely, and important message to take away from a fun night, which the three of us really enjoyed.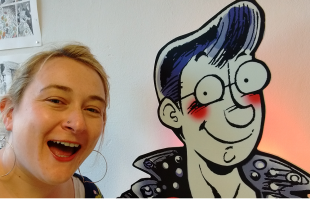 Towards the end of May, Fiona, Parween, and myself went to a film at the CCA called 3,000 Nights. The film is F-rated and is directed by Mai Masri, a Palestinian filmmaker. It was part of a series of events organised by Glasgow Supports Palestine and other groups to raise awareness of Palestinian political prisoners. The screening took place during the Freedom and Dignity hunger strike which ended on the 27th of May after 40 days; around 1500 Palestinian political prisoners were on hunger strike for to demand better treatment in prisons, including better medical treatment and an end to solitary confinement.
3,000 Nights is based on real events, and tells the story of Layal, a Palestinian schoolteacher who is jailed after being accused of helping a teenage boy on the run from Israeli police. Layal then discovers she is pregnant. She gives birth to a son and despite the horrors she experiences in prison, she must protect him, survive, and maintain hope. We were really lucky that a member of Glasgow Supports Palestine – himself a former Palestinian political prisoner – introduced the film for us, and verified much of what we saw.
Fiona and myself noted that the film was dark, and very, very moving. Seeing the struggles and terrible conditions inflicted on people, who are often not guilty of any crime was shocking and at times distressing.  Parween commented on how sad it is that people don't always respect one another as human beings; we saw how it becomes easy to take an 'us and them' approach to situations, instead of recognising people's common humanity and attempting to work together through kindness. The cruelty people that bad people can show to others because of differences in upbringing or life experiences was made very clear throughout the film; although this was obviously very grim, it also reminded us to take care of and respect each other, especially in difficult times when people are persecuted or made to feel fear.
Coming up in June, we've got a guided tour of the Sisterhood is Powerful exhibition at GWL, and we'll be attending Professor Alison Phipps's UNESCO lecture on refugees and the arts. If you'd like to come with us to either of these events, or want to have your name added to our mailing list for future events, please let us know! Drop us an email, call us on 0141 550 2267 or pop in to see us at 23 Landressy Street.