It's beginning to look a lot like Springtime here at GWL, and what better way to celebrate than with the return of our ever popular Heritage Walks! We began with Women of the Gorbals on Saturday 1st April – this walk will be on again on Sunday 21st May – taking us over the Clyde to stop at various landmarks, streets and buildings with accompanying stories about women, work and domesticity from the 19th century to now. The walks are carefully researched and complimented by stories about individual women who made a difference to the community; women that were left out of the history books, but nevertheless made history.
Past participants have lauded the welcoming walks for their highly informative tour guides (aw shucks…) and of course the fascinating stories about ordinary and extraordinary Glasgow women; in the East End learn about 'the Barras Queen' Maggie McIver who built the famous Barrowland ballroom, Betty McAllister who organised a protest when PM Thatcher visited Templeton, and poet Agnes Craig and her love affair with Robert Burns. In Garnethill, hear of the women who shaped Glasgow School of Art, and in the Gorbals, be astonished by tales of the highly influential suffragettes! It's a great opportunity to meet other women for a blether, and for a bit of exercise!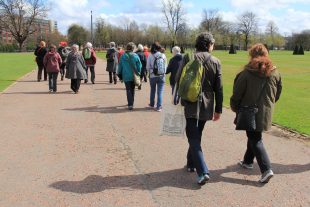 Our next walk will be in Merchant City on Sunday 23rd April, and further walks in the East End, Necropolis, West End and Garnethill will be held in the next five weekends afterwards. Dates can be found in our brochure, or online and bookings must be made in advance. It costs £10 per person full price to attend the walk or £6 for a subsidised ticket.  Children under 15 can come for free, so it's a great family outing, an excuse to explore your city deeper and learn something about Glasgow's women that you may not learn at school. Looking forward to seeing you on a walk soon!