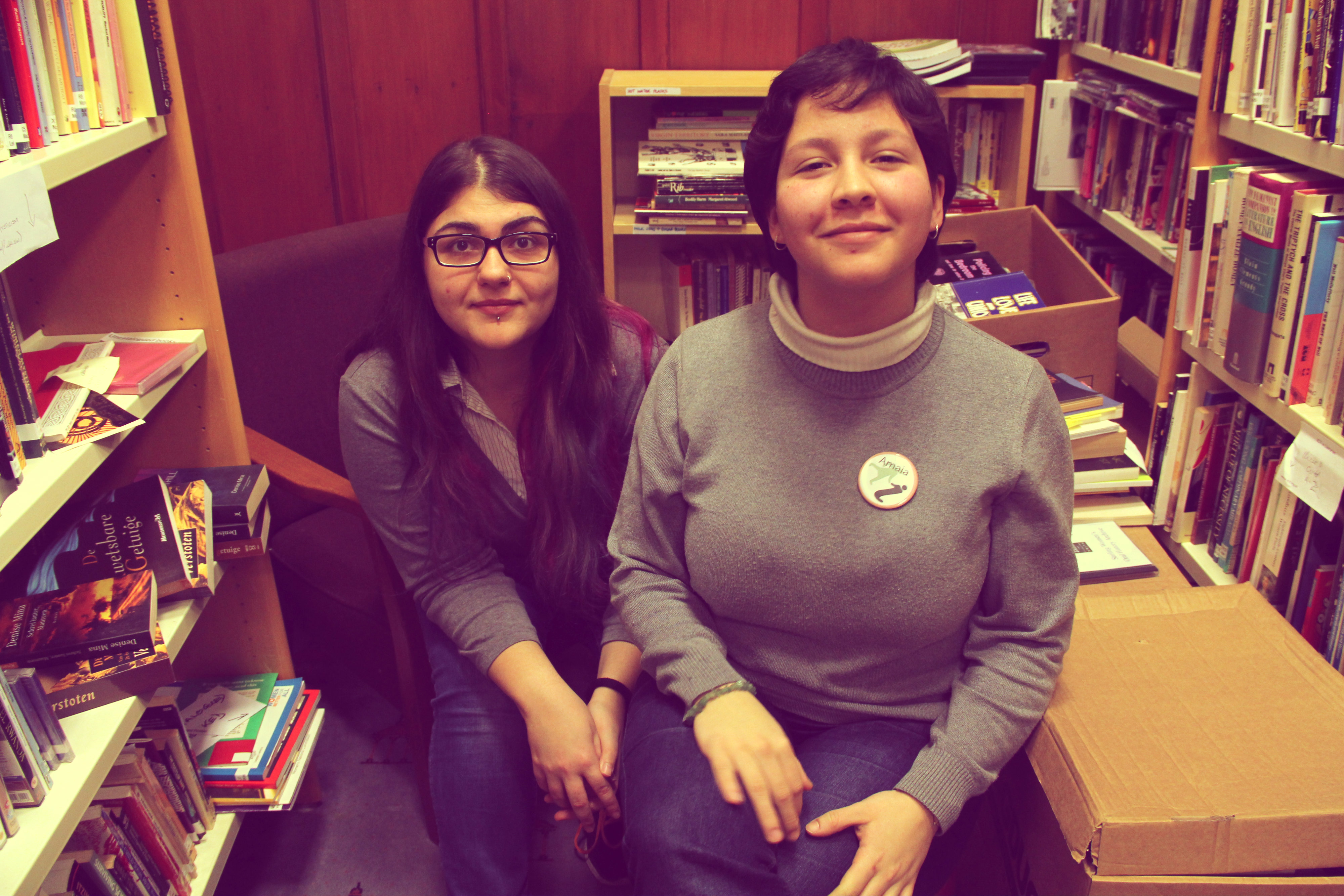 How did you meet?
Zefi:  We meet late in November. Amaia had just come to volunteer from Spain. She had just arrived and we met on the corner outside the Kitchen. She was really anxious about moving into her new flat! I said I loved Glasgow…As dirty as it is.
Amaia: We connected as we are from the south! Because I was new here.
Zefi: She was the first person I met from there.
What do you do?
Amaia: What do you do here Zefi? For your thesis I know… I like the parts you did for the Domestic Abuse Work Project [Speaking Out: Recalling Women's Aid in Scotland]. I am proud of you for helping and connecting. You gave a part of your voice. I'm also looking forward to hearing you in the play.
Zefi: Amaia comes here Thursdays, one day a week, and works the front desk or database. Jobs she is brave enough to do! One of the first faces you see which is nice. She got a guy to pick his library card through choosing his favourite numbers. A good answer.
How would you describe each other?
Amaia: I think Zefi Maria is a beautiful personality, charismatic with people, motivated. At the Story Café she engages with the beautiful older ladies over tea.
Zefi: I couldn't say better. Amaia is one of the few who are always engaging with people and making them feel comfortable. Also rare is that she also listens to you unlike others might.
What have you learnt from the library?
Amaia: New to Glasgow as I was, I have had personal growth due to Zefi. There are so many woman here doing so many things.
Zefi: It was the first place I came to in Glasgow. I met Amaia when I needed to. I needed someone nice… More patient from here. I am a very anxious person. She helped me see a better perspective.
What is GWL to you?
Amaia: I'm very proud about being part of this. I can't be here many days. The few I am is very inspiring. There are empowering books. I am proud it's in Glasgow. Empowering everything. It's key essence…everything. It has knowledge of everything and the future. Go GWL!
Zefi: I feel extremely lucky to be here for three months non stop. So I could see one of the most beautiful places I've ever been. I have spent time with other capable smart women sharing skills. We don't need to pretend we don't know things. GWL is a part of my life I won't be able to put aside until I'm very old.
If you would like to find out more about volunteering with us please visit this page.  And you can read about other volunteers and their experiences here.