Let's be honest, everyone loves some encouragement; to be told that you're doing well. It's a real morale boost, and at Glasgow Women's Library we are all thrilled when this happens, so to be recognised for excellence through the winning of awards really does make our day – and has certainly made our year.
We are truly elated to have had several awards bestowed up on us in 2016.
The year got off to a flying start, when in February 2016 Glasgow Women's Library's co-founder and current Creative Development Manager, Adele Patrick, was awarded the Evening Times 'Scotswoman of the Year' Award in recognition of her role in and dedication to GWL during the past 25 years.
Evening Times executive editor Rob Bruce said:
"Adele's hard work and passion has made a difference to the lives of thousands of women, through her unwavering belief that all women should be able to contribute to society. She is a worthy winner of Scotswoman of the Year, and we are delighted to honour her incredible achievements."
Adele is crowned 53rd Evening Times Scotswoman of the Year
Meet our Scotswoman of the Year: Adele's amazing legacy gives women a voice
SWOTY Adele is named a Woman of the Year
Adele also received the 2016 Marsh Award for Excellence in Gallery Education (in assocation with 'engage in the visual arts') later in the year.
In fact, 2016 continued to exceed our wildest dreams, with a plethora of awards in response to the completion of the refurbishment of our beautiful building in October 2015, led by Collective Architecture.
We were overwhelmed to win the Icon Diversity Awards 'Venue of the Year' Award 2016. We scooped The Judges Award in the Herald Property Awards for Scotland 2016 (in association with Burness Paull) and were thrilled to be awarded The Glasgow Institute of Architects, Art and Leisure Category Award 2016.
We are also proud winners of the RIAS (Royal Incorporation of Architects in Scotland) / Scottish Government 'Scotland's Client of the Year' Award. Fiona Hyslop, Cabinet Secretary for Culture, Tourism and External Affairs, said:
"The Glasgow Women's Library has delivered a facility that is inclusive and greatly valued by the local community as well as visitors from all over the world.

"The views of the local community were important to many aspects of the architect's proposals. It is refreshing to see that local people have been involved in decisions about the design of the building. It is a worthy winner of the Client Award in the Year of Innovation, Architecture and Design."
It was an additional honour, and a very pleasant surprise indeed, to be awarded the sole 'Highly Commended' in the prestigious and highly competitive Civic Trust 'My Place' Awards and to then be 'Commended' in the Scottish Design Awards, Regeneration Category.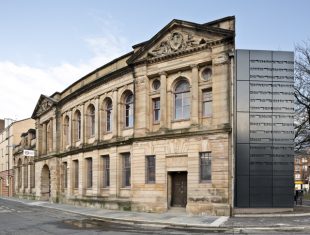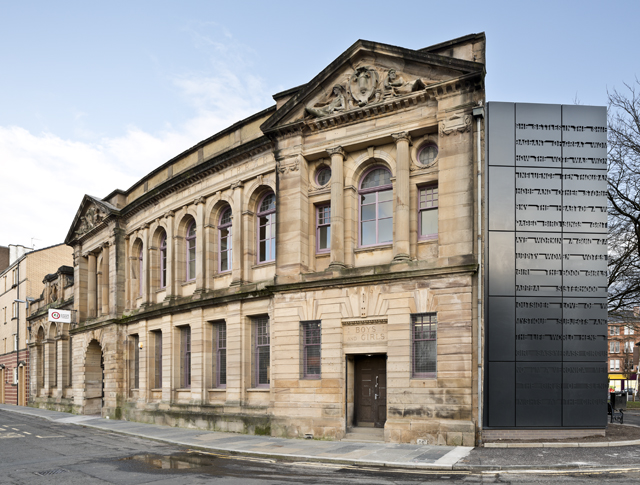 In addition, the GWL building refurbishment project was also shortlisted for five other awards: the RICS (Royal Institution of Chartered Surveyors) 'Community Benefit' Award; the RIAS 'Regeneration Category' Award; the Scottish Property Awards 'Community Development Project of the Year'; the UK national Architects' Journal 'Retrofit Awards', 'Cultural Buildings Award: Visitor Centres, Libraries and Museums'; and the SURF (Scottish Urban Regeneration Fund) Awards 'Best Practice in Community Regeneration' Category.
Our innovative work in the fields of learning, heritage, art and culture has also been recognised and it was a true honour to win the Inspiring City 'Arts and Culture' Award 2016 (The Herald and Chamber of Commerce in association with People Make Glasgow, award sponsored by AHR).
GWL won the UK national Women's History Network Community Prize for our partnership project, 'Women Making History in West Dunbartonshire' and was also Highly Commended for our 'March of Women' project at the same awards.
In the year that we celebrated our 25th birthday, we also attracted wide local, national and international media attention including features in The Guardian, The New York Times, The Evening Times, The Skinny; on BBC 2 'Scotland 2016' programme and on BBC Radio Scotland. And we were overjoyed to enter The List Magazine 'Hot 100' for the first time, at number 11, further recognition of GWL's contribution to Scotland's culture.
Our achievements this year build on successes of previous years. We were especially thrilled to win the UK-wide Cinema For All 'Film Society of the Year' Award for 'Best Film Education Programme' in 2015. This was for our hugely popular and successful partnership project with the Wellcome Collection as part of the Sexology Season.
In 2014, one of our favourite projects, 'Badges of Honour: How Badge-Wearing Women Changed the World', funded by the Heritage Lottery Fund, scooped two awards, being 'Highly Commended' by both the UK Women's History Network Community Prize and the UK Collections Trust, in their 'Enterprise in Museums' Award category.
GWL's enterprising approach was rewarded with two huge wins in 2013-2014, when we were overwhelmed to be winners of both the Arts & Business Scotland 'Enterprising Museum of the Year' Award 2013-14 (Sponsored by Museums Galleries Scotland) for our 21 Revolutions Project), and the Jobs and Business Glasgow 'Social Enterprise of the Year' Award (Sponsored by the Wheatley Group).
You might be surprised to hear, though, that GWL's first foray into the world of awards was way back in 1993, with the first book we ever published: 'Women, AIDS and HIV: A Selected Bibliography', edited by Rosie Ilett and short listed for a Library Association Award.
Who would have thought that over two decades on, we can now refer to Glasgow Women's Library as 'multi-award-winning'?
Thank you to all those involved in honouring GWL through these awards – they really do mean a lot to us.