My dream of working for GWL came true in 2013 when I got the job of Development Worker on the Mixing The Colours project.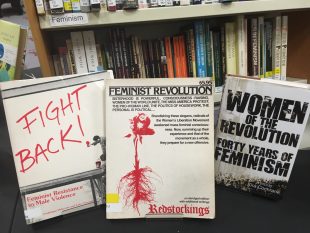 I will always remember my first intrepid visit in the mid 90s, stepping out of the 109 Trongate lift into a utopia of women's words and action. The library had an atmosphere of solidarity and the palpable feeling of agency. Women were important and purposeful here, "Sisterhood is Powerful" rang in my thoughts.  And that same spirit continues today, 25 years since GWL's inception.
Since I started working here I've had the opportunity to develop programmes of anti-prejudice workshops using GWL's collection of activist objects and books. Sadly, women have been fighting against prejudice and discrimination for many, many, (many) years. But as part of that fight they have created vibrant and inpiring tools of resistance and revolution.
My favourite item in GWL's collection is Feminist Revolution by Redstockings which was published the year I was born, 1975. Consciousness-raising is an aspect of my work that I love, sharing materials and supporting women to find strength in the work of their foremothers. By engaging with these books, the ideas and the ideals within them, women's continued struggle for equality is informed and energised.
I feel very lucky coming to GWL every day, cocooned in women's words, history and action, and surrounded by amazing colleagues, volunteers and visitors!