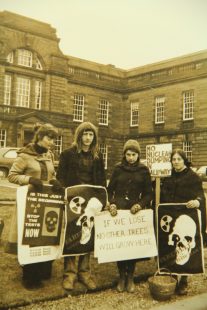 This blog has been written by Hannah Grout, a placement student from the University of Glasgow. Hannah spent two weeks at the library, cataloguing a new donation of personal papers.
Sometimes, a donation is made to the archive that has so much potential staff are keen make it available to users as quickly as possible; the Kathleen Miller Collection was one of those times. The papers focus around Kathleen Miller's activity as an anti-nuclear campaigner from the 1970s-1990s, and in particular on the campaign to save the area around Mullwharchar hill, in the Galloway Hills, from becoming a site for nuclear waste disposal.

Kathleen Laura MacLean George was born on the 10th October 1936, in Maybole, Ayrshire. She attended Paisley Grammar School and the University of Glasgow. It was when Kathleen and her young family (husband John Miller and three daughters Jo, Manda and Bridget) moved to St John's Town of Dalry, Dumfries and Galloway, in 1972 that she first became involved with politics. Kathleen joined the Scottish National Party, canvassed at elections, and stood as a candidate for the local council.

However, in the latter part of the 1970s much of her activism became focused on challenging the nuclear industry's plans to investigate the Galloway Hills as a potential site for the disposal of radioactive waste.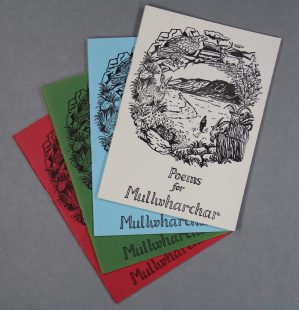 The United Kingdom Atomic Energy Authority (UKAEA) proposed to test bore at Mullwharchar, and the thought of this damage to the Scottish countryside, as well as its effects on the local community, horrified Kathleen. And so, along with local campaigners, she educated herself and others, fundraised, lobbied and staged events. They founded the Scottish Conservation Society (SCS), for which Kathleen was secretary, and the society found much local and national support. In 1980, the SCS was influential in establishing The Peoples Planning Inquiry Commission (PPIC), which was created to run alongside a Public Inquiry that was considering UKAEA's appeal for test drilling around Mullwharchar. This movement eventually lead to the abandonment of the nuclear industry's plans for Mullwharchar, and represents the power of community activism.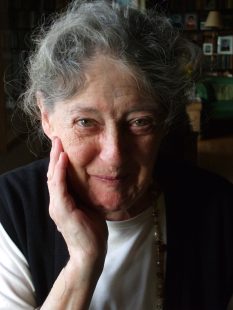 During the 1990s Kathleen became less politically active, although she continued to follow the development of nuclear-related stories in the media, and write letters to those concerned. Kathleen died in January 2013 in Rhonehouse, Dumfries and Galloway
Some of Kathleen's activity, and her links with the wider anti-nuclear movement in the rest of the UK, is documented in this collection gifted to the Glasgow Women's Library Archive by her family. The collection holds a wonderful array of unique information from this time, including evidence gathered against the nuclear industry, publications of anti-nuclear groups and photographs of events and demonstrations. The collection also holds a video recording of a 2010 interview with Kathleen, discussing her involvement with the Mullwharchar Campaign. With nuclear power still being such a contentious topic within UK politics, this collection is a valuable and exciting resource for the Women's Library.