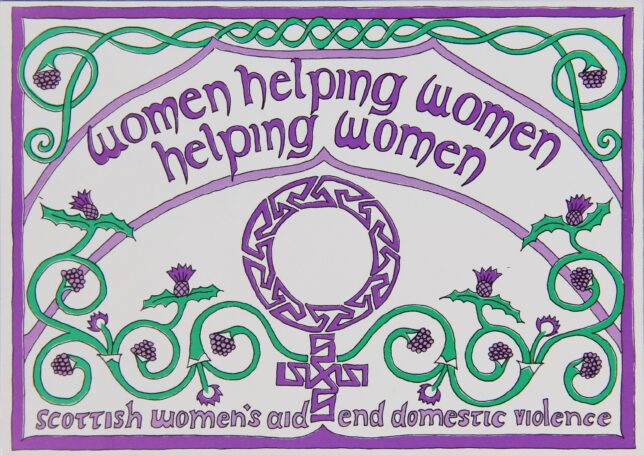 Volunteer Margaret Moore reflects on her experiences of interviewing women for the Speaking Out project and describes what she's learned so far, about Women's Aid and the women who established and continue to run the service and also about herself and her growing confidence as an oral history interviewer.
The first interview I did for the project was on Brexit day – June 23 2016.  David Cameron was resigning as Prime Minister just as I put the radio on that morning and I stood in the kitchen too shocked to move.  I came to Scotland from Somerset only last year. Everything was already new and uncertain, now I felt like an ant in a tsunami. But the interview had been arranged, I was due at the person's house in a couple of hours, had to drive over roads I did not know. So it was move, get going, onward and upward.
Co-operative working was what she believed in and what she did. A sisterhood, standing together as co-workers, laying themselves on the line time and again for other sisters often in great danger, and fighting all the world, practically every institution in society at the time, to do  it.  I thought there was a kind of savage glory to it.  No hierarchies, risk analyses, bureaucracy, all the rest. Are they still feminists, the women running things today, she wondered.  Do they really care or is it all about careers now?  I got through all the questions on the list, though I sound hesitant and stumbling on the tape.  She gave me lunch, which was very kind of her. I needed it.
The second interview I had was with the manager of a refuge in a different region.  No dispute about terms now, she is the manager.  The tone was pragmatic, calm. Relations were good with all sections of the community. True, the police had kicked the door in not long before, but "we can say to them, it didn't go well in this instance".   Lots of numbers.  Twenty-one workers employed, over four hundred women helped in the previous year. It seemed to me the help was offered in ways both creative and inventive. Outreaches had been established covering a fairly enormous area. Relationship courses were being run in schools, local communities coming together in all kinds of ways to raise money.  I had my act together for this interview.  I got through all the questions and asked some of my own when it seemed useful.  A bit of nervous giggling at the beginning of the tape, but overall much less hesitant.
The third interview followed directly after the second, and it was with one of the two people who had set up the same refuge about 30 years before.    She was retiring, the project was an opportunity to look back over the years in a more focused way. She spoke of pressure and then more pressure.  To get funding in every year; to avoid anything that might be misinterpreted in the local press and bring the refuge into disrepute;   to cope with hostility; to cope with feeling a failure when a woman went back to an abusive relationship; to stay calm listening to a story that broke her heart; to stay calm on the night she drove all round a small town searching for a hunted woman. Part way through, I decided to fold my tent, ditch the question list, go with the flow.  I just listened and bore witness.
This has been a fascinating introduction to Scotland, a country that put a high priority on preventing domestic abuse at the first Parliament in 1999. The interviews I did are a small example of how it was, and is, being done on the ground by Women's Aid. To say I was impressed doesn't cover it. But I did have a very strong impulse just after I'd finished the last one. I wanted to go back to my first interviewee and tell her the ideals she had held so dear are still there. Different strokes for different times, but they do still believe.