Many of us will have a book that we hold close to our heart. As part of Book Week Scotland, Glasgow Women's Library are hosting A Book Which Changed my Life, an evening celebrating three emerging BME women writers based in Scotland about a book which has changed their life.
But we want to showcase books that have changed the lives of BME women across Scotland/Glasgow and, in the process, create a collection of inspiring, life-changing books by women to add to our collection .  Glasgow  Women's Library is keen to promote writings by women therefore strongly request that you identify a book with a female author.  If however your chosen book is not written by women but has impacted your reading journey, or has a strong female character which has influenced you then we welcome your contribution.
Alana Blockley from Glasgow shares her story of a book which inspired her….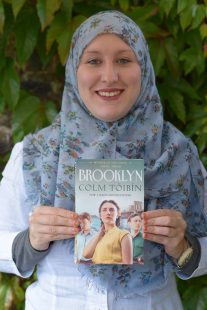 "I have chosen the book Brooklyn by Colm Toibin because it is the first book I have read in a long time that I could really relate to. I had just moved to Egypt to live and was dealing with a new culture and being away from my family, friends and my familiar things. It was tough and lonely at times so reading how Eilis felt during those times of deep depression and loss really struck a chord with me." – Alana
How to get involved
It's simple! All you have to do is:
Take a photo of yourself holding your chosen book. (Please ensure the book /writing is by women author). You can pose in the photograph any way you like.
Write a short paragraph sharing why you have chosen your book. What has this book meant to you? How has it affected you?
Select a quote from your chosen book that can accompany your text and photograph [optional]
It does not matter if your chosen book is in a community language or language other than English. The main thing is, we want to hear your story of how the book has changed your life. In order to inspire other women to read the book you have chosen and be inspired by others' selections, we would also love you to consider donating your copy of the book to Glasgow Women's Library so we can create a life-changing collection of books that have changed lives.
If you are a BME woman and would like to share your story about a book that changed your life, please email syma.ahmed@womenslibrary.org.uk
Images of you and your chosen book will be exhibited at our A Book Which Changed My Life event on 25th November at Glasgow Women's Library.