On Saturday, a small group of volunteers and group members from the Seeing Things group got the opportunity to attend the Tall Tales exhibition currently on at Touchstones Gallery in Rochdale. The exhibition is a touring exhibition, curated by Elizabeth and Helen Wewiora, and contains a fantastic selection of works by contemporary women artists whose work employs story telling and narrative. In October, it will come to Glasgow Women's Library, where we will contribute to tours and other engagement activities, as well as help install the exhibition, along with other Seeing Things members.
Our trip to Rochdale then, was as much a fact finding mission as anything, and the group learned more about the artworks and artists involved in the exhibition and got a chance to meet and talk to the curators and some of the artists involved. Here is a short photo essay using just some of the documentation from our day!
We started out really early on the Saturday morning heading for Rochdale via Manchester!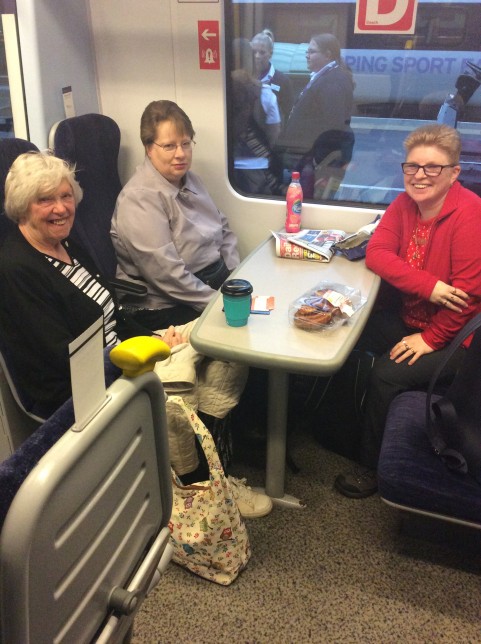 We arrived in Rochdale around midday, and walked through the town past the Town Hall to Touchstones Gallery where Tall Tales is currently on show!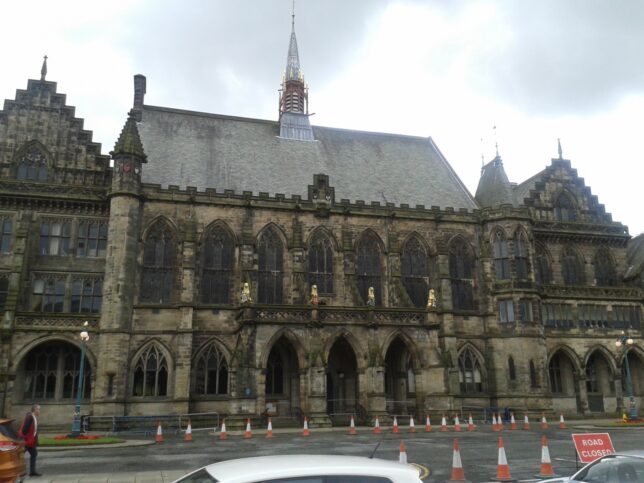 After a quick bite to eat, a restorative cup of tea and a chat, Liz gave us a tour of the show. First stop: The Chandelier of Lost Earrings by Lauren Sagar. The work comprises hundreds of donated 'lost' earrings and occupies a massive part of the gallery space. In the background, you can see works by women from Rochdale's own large art collection which Touchstones have curated alongside Tall Tales. The exhibition features amazing works by artists including Maud Sulter, Dorothea Sharp and Hayley Tompkins.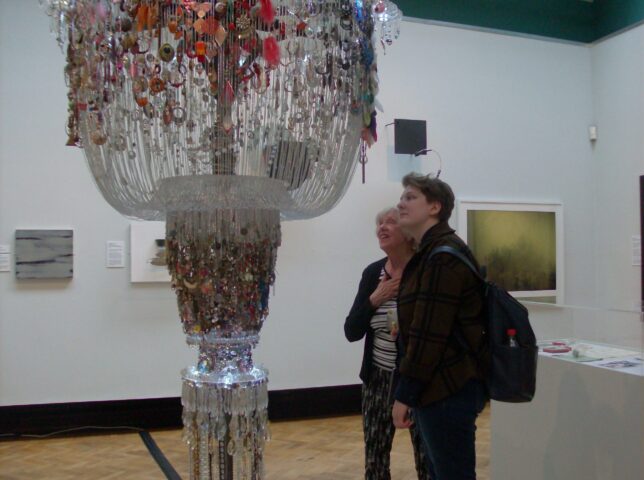 We then went into the main exhibition spaces, where Liz talked to us about individual artworks and artists. Here we are looking at Ruth Barkers installation for her performances about Anna Freud…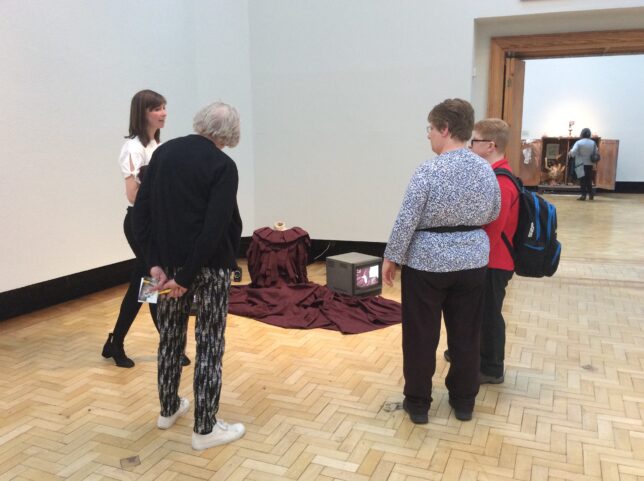 … and here we are learning about the drawings and sculptural work of Rachel Goodyear…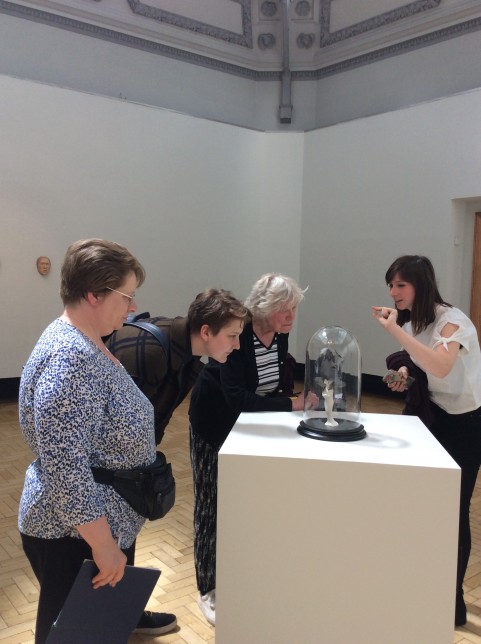 … as well as Ma Quisha's Two Years Younger Than Me, a sculpture/installation which presents a series of found objects belonging to her late grandfather of the beard clippings he collected and preserved throughout his life!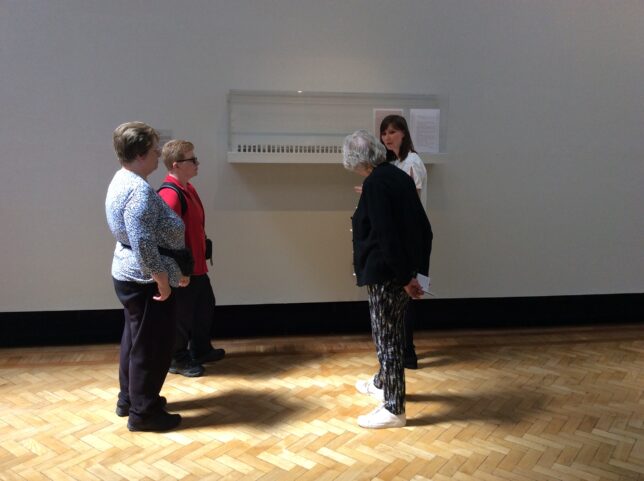 … as well as Alinah Azadeh's touching tributes to her mother in her work Mother Tounge…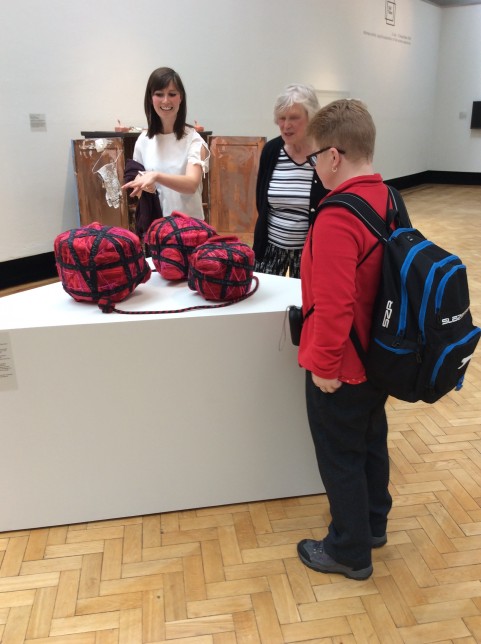 Finally, and perhaps best of all, we got to listen to a panel discussion about the importance and emotional resonance of textiles featuring artists from Tall Tales Alinah Azadeh, Lauren Sagar and Jacqueline Butler, as well as Jennifer Harris from the Whitworth Gallery in Manchester.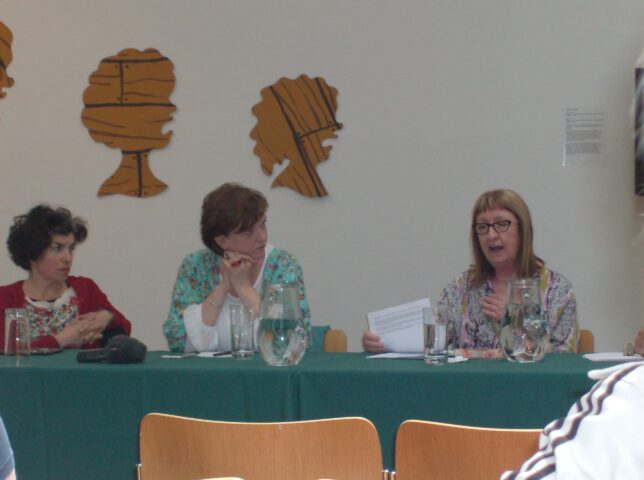 After the talk, we returned to Manchester, excited at the prospect of seeing it all again when it comes to Glasgow and telling everyone about what we've learnt!