On Thursday 16th June 6-7:30pm we will host a safe space discussion session for all women as part of our new In Her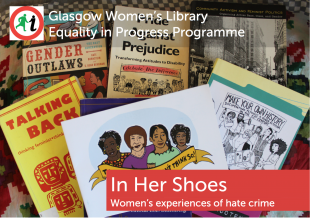 Shoes project.
During the session we will explore the barriers that the criminal term 'hate crime' poses to women in coming forward to speak about their experiences of targeted victimisation or hostility.
Hate crime is not really about hate, but about bias or prejudice.
The Leicester Hate Crime Project say that hate crime includes all types of targeted victimisation including verbal abuse, harassment and threatening behaviour through to attacks on property and violent assaults, and that there are currently five monitored hate crimes, disability, race, religion, sexual orientation and gender identity. Similar to our own realisations their report highlights the lack of familiarity that respondents had with the term 'hate crime' and their lack of knowledge of what forms and types of crime can be considered 'hate crimes'.
In Her Shoes aims to challenge all of the barriers to reporting, taking language, understanding and accessibility as our first points of action.
On Thursday 16th June 6-7:30pm we will ask women to come together to speak about being verbally abused in the street, threatened and intimidated on public transport, targeted by abuse online, or physically hurt. If these are experiences that you personally recognise and you believe you were targeted due to your gender, sexuality, race, religion, disability or a combination of these, you may have been subject to a hate crime.
We have also launched an anonymous online survey  to gather the experiences of GWL learners and users and wider communities of women.
Further events will take place throughout the year and into 2017 with workshops focusing on specific groups in partnership with LGBT Health & Wellbeing, Amina and the Mental Health Network; and will culminate in our In Her Shoes activist art performance.
To find out more or to get involved contact In Her Shoes Development Worker, Rachel Thain-Gray rachel.thain-gray@womenslibrary.org.uk