Open Call for two new library residencies
Book Works announces an open call for submissions for two new Library Residencies in collaboration with Chelsea College of Arts Library & CHELSEA space, University of Arts, London, and Glasgow Women's Library, Glasgow.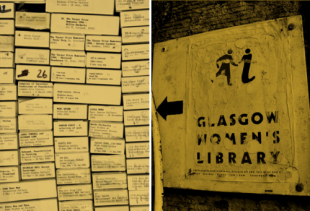 You Must Locate A Fantasy is Book Works' new Library Residencies Programme, presenting a series of residencies and commissions for artists to work with libraries, special collections and archives located in England/Internationally in 2016–2019.
For this first open call Book Works are inviting artists to propose a project that engages creatively and critically with either Chelsea College of Arts Library & CHELSEA space or Glasgow Women's Library special collections/holdings and to develop a new work after an initial period of research/residency that will engage with local audiences.
Each of the partner libraries has something special to offer, and the collections provide a starting point for artists to research and produce something political, poetic, unexpected, ephemeral, etc. that can draw out the unique qualities of the libraries and the artist's own interests. The librarian or archivist is often key to accessing the rich resources in a library, and the relationships we build will give artists an opportunity to access and work with these collections and promote the unique resources and exciting locations these libraries offer to their audiences and library users.
For more information and to download the application form, please visit the Book Works website here.
Deadline 6th May 2016.