See the city in a new light with our Women's Heritage Walks which are back for Spring! This weekend brings our Women of the East End Heritage Walk on Sunday 6th March from 2pm to 4pm. Our (fully booked) Women of the Necropolis Heritage Walk on Sunday 20th March from 2pm to 4pm will tell the stories of both the notorious and forgotten women buried in the atmospheric surroundings of the Necropolis. Look out for this walk in our summer programme if you'd like to attend.
The Glasgow Girls of Garnethill Women's Heritage Walk on Saturday 2nd April from 2pm to 4pm highlights the women who pioneered European art movements, designed banners for suffragette processions, and created the first women's library in Scotland. We put the spotlight on female stars that stud the fabric of the famous quarter in the Women of the Merchant City Heritage Walk on Sunday 17th April from 2pm to 4pm.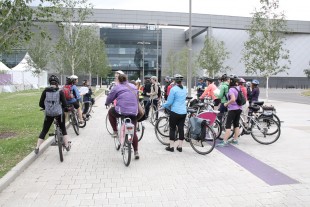 Change the pace with our Women's Heritage Bike Ride on Saturday 23rd April from 11am to 1pm which takes you around the East End with stories of trailblazing women cyclists from the worlds of sport, campaigning, literature and entertainment. Then, hear the story of protesting, rallying activists and the unsung women of the West End with our Women of the West End Heritage Walk on Saturday 14th May, 2pm to 4pm.
Our knowledgeable and friendly volunteer tour guides will lead you on a guided tour with plenty of stops to take in the sites and give you a unique and inspiring insight into the hitherto unsung women who made Glasgow. Pick one, or bag them all! Each event is £10/£6 and can be booked through the event pages or here at the library. We cannot take payment on the day so all tickets must be booked in advance.