Following the opening of the Modern Scottish Women artists exhibition at the Gallery of Modern Art in Edinburgh, GWL's national lifelong learning project has organised special guided tours for women from around Scotland in partnership with National Galleries Scotland. GWL intern Camilla reports back on the first visit which was arranged for women from the Shakti Women's group: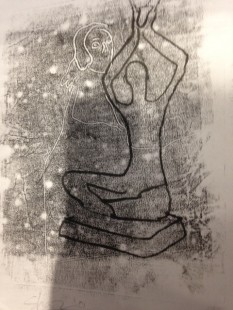 If someone asked you what it means to be 'Strong', what would you say? What image would you visualize? For the women who visited the Modern Scottish Women exhibition at Modern Two in Edinburgh last Wednesday, the word meant a variety of different things. For one woman, strength was portrayed in a painting of a woman sitting next to a bowl of fruit and a glass of water. To her, this painting demonstrated a women who was not only determined to eat healthy, but who also had the will power to stick to her diet and change herself for the better. This demonstration of will power is what this woman saw as being strong, of depicting strength in a way that goes beyond the typical representations of the word.
For another woman, the painting which she saw as depicting strength was a self-portrait where the artist had painted herself wrapped in a beautiful, colourful shawl. This lady admitted that even though eye contact was something which made her uncomfortable as it was something which in her native country was seen as disrespectful, in this particular painting she perceived the eye contact as symbol of confidence. Wrapped in only a shawl, the artist's eyes related a story of being unashamedly comfortable in her own skin. For this particular woman, this painting not only exuded confidence, but also a feeling of being strong in oneself.
For a large portion of the women who visited, the paintings which best depicted what it means to be strong were the paintings of the artists' children. The group thought that the artists' choice to paint their children was both a beautiful act of love as well as an act of strength. By painting their kids, these artists were able to not only make their emotional sentiments visual, but also to make a social commentary about the role of artists versus the role and responsibilities of mothers and wives. To the women, these paintings reflected strength because they emphasise the fact that even though society criticised and demanded that these artists give up their careers in order to be good mothers, they demonstrated that they did not have to sacrifice one for the other – that they could do both things, and do them equally well.
There is no wrong or right answer for what should be seen or felt when looking at art. This is demonstrated clearly by the fact that different women saw strength depicted in different paintings. Art is something that speaks to you, and for many of the visiting women what initially spoke to them was that all the exhibited artists experienced inequalities and had their works undervalued; that all the artists had to make career sacrifices when they got married in order to fulfil their so-called womanly duties. The Modern Scottish Women exhibition is beautiful, and highlights the fact that female artists' work is often undervalued, unpreserved and overlooked. By exhibiting these works and making them accessible it is, as one woman said, "acting out of love and kindness". This is an act of kindness and love because it not only demonstrates in a visual manner that these artists' works matter, but also shows that women's work in general is valuable. It is, as the lady said, women supporting and loving fellow women, and teaching one another that our work and our contributions matter and should be cherished and shown.
The next visit to the exhibition is for young women aged 16-25 on 17th March. If you would like to go along phone GWL or go to our website