The Outstanding Women of Scotland Awards were inaugurated in 2015. They honour 10 living women each year who have made truly outstanding contributions to Scottish life and culture. Last year's moving and memorable induction ceremony saw some of the most remarkable women in Scotland receive their awards from young women about to embark on their career and life journeys. These unique awards are a partnership between Saltire Society and Glasgow Women's Library.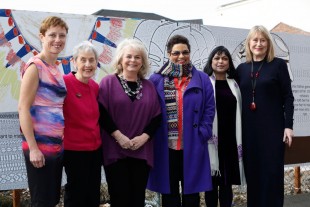 Nominations for Outstanding Women of Scotland 2016 are now open
Nominations for the 2016 awards are invited until 11th March 2016. Please see this website for more information. To find out more about last year's Outstanding Women of Scotland Awards 2015 you can read about them here. Or, if you're ready to nominate go straight to the form here.
Commenting on the launch, Saltire Society Programme Manager Sarah Mason said:
"The Saltire Society is here to protect and promote Scotland's essential culture and heritage. By championing the women of Scotland – the unsung heroines of this country alongside those who have risen to prominence in public life – the 'Outstanding Women of Scotland' campaign seeks to celebrate everything Scotland's women have achieved – and the huge contribution they make to the cultural life of this country."
Adele Patrick, Lifelong Learning and Creative Development Manager, Glasgow Women's Library commented:
"Scotland has an inordinate number of remarkable women who have shaped its past and some phenomenal women who are changing the face of the nation today. We are thrilled to be working with our partners the Saltire Society to bring the contemporary heroines whether they are architects or engineers, playwrights or poets into the spotlight. These unique Awards involve young women in the process fuelling their own aspirations as we ensure Scotland's story includes the cultural contribution of women."