Alas, Summer has come and gone, but every day has witnessed progress with our major building renovations here at Landressy Street.
You may recall that refurbishments started in November 2014, involving the building of our dedicated archive and museum stores and a new learning space, including a mezzanine floor; these works transform the former 'men's reading room' and create a beautiful new venue that can accommodate more than 100 people. In addition, significant external structural works are required to fix rot and other wear and tear issues, repair stonework and, crucially, install a lift to the upper floor.
We are very excited to report that the internal works relating to the former 'men's reading room' (we really must find a new name for this cracking new space!) are now complete for this phase, and the keys will be handed to us on Monday 7th September.
While some of our events will be held in this new space in the immediate future, it will take some weeks to move our collections into the archive and museum stores. We will be formally launching in November – watch this space!
The external works are taking longer but we are still on schedule for completion of this phase of the works by the end of October.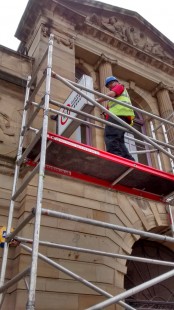 A symbolic stage in marking the progress of the last few weeks is the installation of the GWL sign to replace the old Public Library sign (which of course will be kept in our collection).
You may note that we refer to 'this phase' of both the internal and external works. When renovating old buildings you never know what you may find, and hidden rot and other issues have had to be addressed as a matter of priority. Therefore, as with many building projects, and we have had to 'value engineer' – ie cut out – some very important elements such as a new 'Welcome Wall' and entrance way, dimmer lights, blinds and stackable chairs, for which we now have no budget! Our Women on the Shelf initiative is still open and this is the perfect way to support GWL in raising these essential remaining costs whilst dedicating a shelf to the woman of your choice as a permanent feature at GWL.
We will keep you up to date with developments – sign up to our mailing list or join the Library to get regular news from GWL.
Thank you for all your support and patience, and please do come to see us soon in our beautiful home.
Thank you to the funders of this capital build project: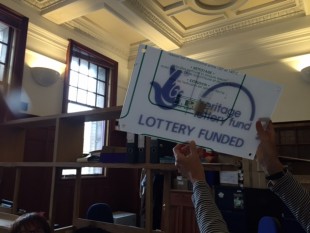 Heritage Lottery Fund
Creative Scotland
Museums Galleries Scotland
Glasgow City Council
The Scottish Government
The Scottish Futures Trust
All our Women on the Shelf supporters
We would also like to thank Clyde Gateway for their ongoing support.