As we reach the midway point of this project year it seems like a natural time to reflect on how we're engaging with people in the discussion on sectarianism.
We continue to gather women's opinions through workshops and we're inviting men to join our public events to learn from women's experiences.
Since April 2015 we've delivered events and workshops at Aye Write Festival, Shettleston and Ibrox Libraries, Harpies Fechters and Quines Festival and at Dalreoch Day Care Centre with 30 participants. And, to date, 4 of our writers have performed at two events.
Feedback from our events to date speaks loudly of learning about other opinions.
"Shared different understanding about this topic. A good way to open each other's view."

"Very interesting – made me reflect on my own prejudices"

"It made me look at myself."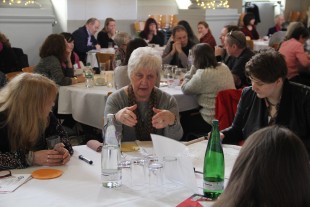 And we keep firmly in mind the unique environment that women tell us enable them to speak and listen to each other.
"Thoughtful, interesting, friendly, non-threatening discussion."
Our GWL volunteers have been busy reviewing the Mixing The Colours publication and more are due on board soon thanks to our Book Reviewing Training scheduled for the 1st September.
"Potentially beautiful human experiences have been extinguished by the heavy weight of division caused by sectarianism. The documenting of these stories then provides the first step in a healing process, creating a springboard where the future suddenly has far bigger possibilities."  MtC Book Review by Mel Bestel, GWL Volunteer

"Mixing The Colours has the power to shock. Its darker moments are balanced with gallas Glasgow humour. This anthology will stay with the reader long after the final page has been closed."  MtC Book Review by Claire L. Heuchan, GWL Volunteer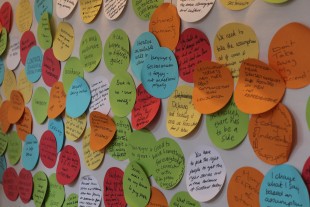 We've distributed over 200 copies of our publication to Glasgow and Stirling Libraries, the Irish Consulate, our pop-up library at Say Women and to individuals and organisations at events across Scotland.
We still have a lot to do and lots of events planned to share and gather experiences. We'd love you to be a part of the action women are taking against sectarian bigotry.
Get involved now!
Be interviewed in a very non-scary way! (contact Rachel on rachelthain-gray@womenslibrary.org.uk)
Review the publication and receive a free copy (or train in Book Reviewing)