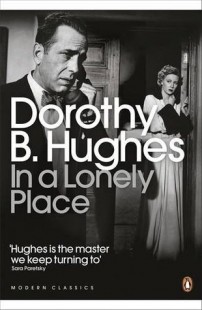 Dorothy B Hughes deserves to be far better known than she is. When people talk about the American hardboiled tradition of crime novels, they think of writers like Raymond Chandler, James M Cain and Dashiell Hammett, but Dorothy Hughes should be up there with them. Three of her fourteen crime novels were made into films and she won several awards for her work.
Like most of her novels, In A Lonely Place – originally published in 1947 – is really suspenseful and atmospheric. The story is told from the point of view of Dix Steele. Let me tell you right now – Dix is Not A Very Nice Man. In fact, he's misogynistic, sociopathic and, possibly, a serial killer and it's really unsettling being in his head. A war veteran, he's borrowed an apartment from a friend and is writing a novel. He renews his acquaintance with Brub, an old army buddy who's now a policeman with the LAPD, investigating the case of a strangler preying on young women. Things become even more complicated when Dix meets his neighbour – Laurel Gray.
Just thinking about this book sends a shiver down my spine. It's very tightly written, chilling and full of tension, but none of the violence is on the page. In fact, until the end, you're not really sure what the truth is. Dix likes taking walks at night and following young women but is he a serial killer?
Hughes, for me, is definitely a feminist writer. The fact that none of the crimes are described means that the voyeuristic element of some serial killer novels is missing completely. In addition, Hughes depiction of Dix Steele critiques the misogynist attitudes of many men returning from war and finding that their lives have changed and women have been doing their jobs. Unlike a lot of crime and other fiction, Dix's failings are placed squarely at the feet of Dix, rather than blamed on women. The victims are never blamed for being in the wrong place at the wrong time. The responsibility for his actions is entirely with Dix.
In A Lonely Place is one of my favourite crime novels and films noir (starring Gloria Grahame and Humphrey Bogart) – despite the fact that book and film are very different. If you've seen the film, read the book for a completely different take on Dix. It's time to discover Dorothy B Hughes.
Come along to our Pulp Queens exhibition, which is on until the end of August.