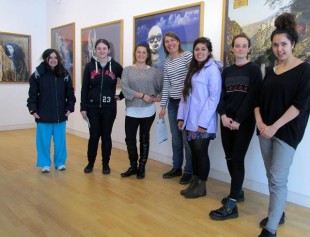 Are you 16 to 24 and looking for something fun, exciting and totally different to get involved in?
We are looking for young women who'd like to find out more about either films, art, books, music, dance (or all of these!) by women artists and who'd like to learn how they can help GWL to reach more young women using blogging and social media.
You'll meet other young women, build your confidence and join a team of supportive and encouraging staff and volunteers, while seeing and reviewing events in the Glasgow Women's Library, across the city and beyond.
With regular weekly meetings on Wednesday afternoons, Young Critics are supported and encouraged to get out and about and experience the arts for themselves. We also offer training and mentoring to help you respond to exhibitions, performances and events in their own words using blogs, video blogs (vlogs), and other media to publish their reviews online and in print.
Our next block of sessions starts in September and will run until December with a range of opportunities on offer including to get behind the scenes access to Glasgow Women's Library events such as film screenings and writers' talks, supported trips to galleries, theatre and dance shows, and training sessions with established journalists and bloggers.
So far our Young Critics have taken part in workshops in reviewing, previewing and interviewing and been to see a diverse range of shows that have taken in visual arts and photography, Gaelic song, stories from inspiring women, ballet, theatre and much more.
All travel expenses will be paid and we aim to cover any childcare costs too.
https://womenslibrary.org.uk/event/young-critics-end-of-year-show/
To find out more about getting involved, please contact us:  info@womenslibrary.org.uk or 0141 550 2267