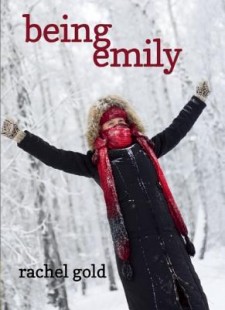 Book review – "Being Emily" by Rachel Gold (Bella Books 2012) – available from Glasgow Women's Library
I was sniffing about the fiction section of the library while waiting to go into a meeting, not particularly looking for a book but curious to see if there was anything new and interesting. I noticed "Being Emily", more for that newness than anything else and took it down off of the shelf for a look.
I'm not someone who you think would go for a Young Adult novel but being the mother of a teenager I have read books such as John Green's "The Fault In Our Stars" (which I loved) and others by him that I didn't like so much and also books by Rainbow Rowell ("Eleanor And Park") and Gayle Forman ("If I Stay") which were alright. This sounded like an interesting story though and certainly one that, I feel anyway, captures what I feel anyway are current and pertinent issues.
"Being Emily" tells the story of a young person's transition from an awkward swim-team member in a small town of small minds in Minnesota to becoming the young woman she wants and needs to be. Her path is strewn with difficulties – a mother who just can't accept her son wanting to be her daughter, a father who initially seems like a Neanderthal bully, a therapist who believes Emily can be "cured" – but she has allies too in her girlfriend/ best friend Claire (a sensitive portrayal of a young person with Christian beliefs who, instead of looking to her bible to condemn, looks into it for reasons to love and understand), another therapist who is far more sympathetic to and understanding of Emily's journey and Natalie, another young woman who, with the support of her mother, has successfully gone through what Emily is going through and becomes her guide.
This book seems to me to be an honest description of transition, with its pitfalls and struggles as well as its triumphs. Rachel Gold really does get you on Emily's side, rooting for her through her highs and lows. I believe this would be an excellent book for any young person to read, while at the same time being a great read for anyone of any age who is interested in the subject matter. I was going to say that it is particularly useful for anyone who is going through or has been through transition, but I feel that, as human beings, we ALL go through transition of some kind or another so it's always good for us to read positive fictionalised accounts that describe any transformation, be it of the body, the spirit or the mind. And that, if we have the courage to be who we are meant to be, we can all be beautiful together.
*"F**k My Life 666" by Against Me! Lyrics by Laura Jane Grace