Anabel recommends some classic books by Elizabeth Taylor.
When I first started working in public libraries in the 1980s, I went through a phase of devouring as many Virago Modern Classics as possible. One of the authors I discovered then was Elizabeth Taylor (no, not that one). I hadn't thought of her for years until I spotted a couple of her books in GWL and decided to revisit her. Both feature "lady novelists"; one centre-stage, the other as an important supporting character.
Angel (1957)
Whe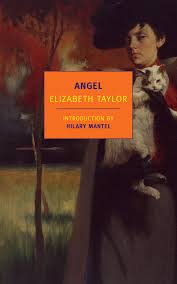 n we first meet Angelica Deverell she is a girl with ideas "above her station". Her mother is a shopkeeper and her aunt is in service, but Angel knows she is destined to be a writer. She gets into trouble at school for fantasising so, aged 15, she leaves to begin her life's work. Very quickly, she has her first novel ready to send to a publisher in London. He, Theo Gilbright, is consumed with curiosity about who could have written this wildly improbable romance, and is astonished to meet an adolescent girl. However he, and we, soon get the measure of Angel – she is stubborn, humourless and totally absorbed in self-belief. Everything she writes stems from a fevered imagination – she is not interested in reality if it contradicts her own ideas.
Despite her books being panned by the critics, they sell in shed-loads and Angel becomes rich. She moves upwards through society and marries Esmé, an aristocratic, but impecunious, young artist – basically, she buys him. Her only feeling when the Great War breaks out seems to be outrage that her husband is expected to go and fight. He, of course, is not faithful but when evidence of this emerges after his death Angel is able to smooth it away in the same way that she smooths away facts when she is writing.
But fashions change and eventually "no one bought her books, and only the middle aged or elderly had ever read them." Yet Angel refuses to accept this: she does not know she has become merely a "legend of which the young had vaguely heard" and continues to spend as she did in her heyday. She dies impoverished – but with her self-belief still undimmed. It's hard to like Angel, but it's possible to pity her vulnerability, of which she is completely unaware.
A view of the harbour (1947)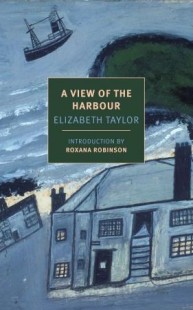 A variety of characters inhabit the run-down harbour area of a post-war seaside town. There's the pub, the second-hand clothes shop, a dusty old waxworks and a funfair that never opens – all the visitors go to the New Town further round the bay. Apart, that is, from Bertram Hemingway, a retired naval officer who fancies himself as an artist and is painting a view of the harbour. The efforts of a previous visitor hang on the pub wall, and Bertram is certain he can do better.
Bertram also affords us another kind of view of the harbour. As he insinuates himself into the lives of the locals, believing himself to be helpful, but often doing more harm than good, we meet all the other characters. The most important are Tory, recently divorced, and her neighbour Robert, the town's doctor. These two start an affair, despite Beth, Robert's wife, being Tory's best friend. Beth is a novelist and oblivious to what is going on – in fact, she seems to be oblivious to most things, including her two children. There are similarities to Angel in this self-absorption. She too denies reality when it intrudes – for example, she is not pleased when Robert points out that the cause of death she has chosen for one of her characters is unlikely. However, she comes across as a much nicer person than Angel and inspires loyalty in Tory who cannot bring herself to hurt her. She resolves this dilemma in an unexpected way – a solution which the final paragraphs of the book suggest might be over-turned.
The author
Elizabeth Taylor is well-respected by other authors such as Antonia Fraser, Hilary Mantel and Anne Tyler. The latter has likened her to Jane Austen, a comparison I can see, particularly in A view of the harbour which examines the minutiae of everyday life. However, although Taylor has never been wildly popular as Angel was, she has, like her, been almost forgotten. She allegedly based the character on sensational novelists such as Maria Corelli and I wonder if this was this her dig at more materially-successful authors with fewer literary gifts?