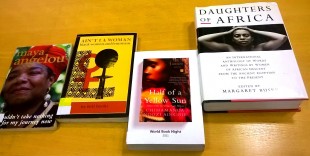 It's Black History Month and here at the GWL we've got a display celebrating a range of writing by black women. You can enjoy the beautiful words of the late Maya Angelou, or some of the less well-known (but no less brilliant) literary works of Alice Walker. There are also powerful feminist discussions, such as Ain't I a Woman by bell hooks. She points out the double-edged struggles of black women and tackles the racism within the feminist movement, and the misogyny within the black nationalist movement.
Some of the fiction we've got on display includes the Pulitzer-prize winning book Beloved by Toni Morrison. This is a complex novel in which the supernatural tale comes together in fragmented narratives and highlights the psychological torments suffered by slaves. Half of a Yellow Sun by Chimamanda Ngozi Adichie is also featured, which is a beautifully written and harrowing story told from the perspective of three interlinked characters during the Nigerian Civil War.
One of my favourite books on display is Daughters of Africa, an anthology of writings by black women across the globe from the ancient Egyptians right up to the 1990s, put together by Margaret Busby. It opens with traditional African poems from all over the continent, and then takes us into 4000 year old Egyptian writings, including a poetic speech from the formidable queen Hatshepsut. The book moves on to some of the earliest African American writers, including Sojourner Truth (Ain't I a Woman!); Mary Seacole, the much less celebrated contemporary of Florence Nightingale; and Harriet Tubman, the 'Moses' of the Underground Railroad. This stunning anthology covers writers from across the globe – from all over Africa and the US, but also from Trinidad, the Dominican Republic, Uruguay, Germany, Scotland and Russia. This book is not available for loan but you're welcome to come in and pore over it with a cup of tea!
You can also come along to our Black History Month event on October 29th from 1pm-3pm for a celebration and discussion of feminist texts! Call us on 0141 550 2267 to book (it's free!).