Clare Henry is one of the titans of Scottish journalism. Her career spans the period of the renaissance of Glasgow as a cultural hub in the late 20th century and she did much to promote Visual Arts in this period for example, as Clare Henry was curator and commissioner for Scotland at the Venice Biennale 1990 and was well known as an art critic for the Glasgow Herald for 20 years from 1980 – 2000.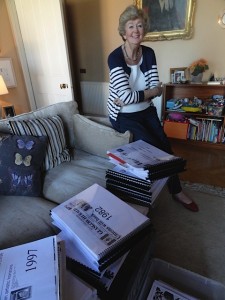 In 2000 she moved to New York where she was art critic for the Financial Times till 2008. She now writes for various magazines in UK and USA. She is a Fellow of the Royal Society of Arts. Her blog, which started August 2013, is at Clare Henry / Art Journal
For 20 years Henry covered the UK art scene in depth. In total 2 million words! She wrote roughly 150 articles a year with particular emphasis on Scottish artists, providing lively profiles, interviews and controversial art politics pieces along with critical reviews. Her writing provides a vast academic asset and a rich resource for students, researchers, teachers, historians and artists.
Glasgow Women's Library are proud that Clare has chosen to donate copies of all her articles bound in book form and covering the period 1978-2009. This remarkable body of work is accessible to researchers and will be a resource used by our new Young Critics project.