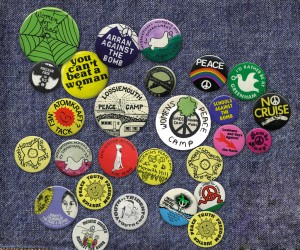 Right now Glasgow Women's Library are showcasing a fascinating array of badges for the Heritage Lottery funded Badges of Honour project. While this will explore the political and social significance of badge-wearing, it will also tell the more personal stories behind it. There are many reasons why people wear them: to some it is about identity and to others a way of prompting discussion. The exhibition will display badges from crucial periods in women's history, but will also encompass the wider movements that women were involved in, such as LGBT activism, anti-Apartheid and anti-war movements. There will also be badges relating to music, sport and art. For something so small, a badge can say so much.
Wearing a badge can often be a way of delivering a political message. At protests, it's a common sight to see them affixed to clothing, featuring the slogans and symbols that will deliver the most impact. It strengthens the collective voice by giving the wearer a sense of identity and showing what they stand for and believe in. Badges of Honour features items from historical campaigns and one of GWL's largest collections is from Trade Union action in the 1980s and early 1990s. One of the most significant events from this time was the UK miner's strike which saw the closure of twenty mines and the subsequent loss of 20,000 jobs. Although the job losses predominately affected men, they also had an impact on their families so women played a vital part in the industrial action. To show solidarity, Women Against Pit Closures was established which organised rallies, started soup kitchens and raised funds. Some of the badges from this movement feature the words: 'We are women, we are strong', emphasising the feminist values that were applied in a national dispute.
The project has also focused on the relevance of badges in the modern day, including issues such as anti-Capitalism. There will also be badges relating to the Scottish independence debate, an event which will be a pivotal event in this country's history. When looking at badge wearing in contemporary society, it's important to note that fewer people wear them. When talking about their donations, some contributors expressed a feeling of nostalgia as they no longer wear badges. This could be due to a change in the way a person dresses, but it's not to say they don't still hold the values. For many, wearing a badge brings about a sense of pride and belief in their values but it can also make an individual feel vulnerable, as they may be challenged on these. However, social media is perhaps the most important factor in the reduction of badge wearers. As one contributor said: 'Instead of people putting on a badge, they send a tweet'. While social media is an effective way of delivering a message quickly and to large numbers, there is a sense of impermanence. A badge is a keepsake and a more substantial way of marking important events.
The Badges of Honour exhibition launch took place at GWL on 1st May. There was badge making workshops and guest speakers including Fiona Hayes, Curator of Social History for Glasgow Museums and GWL 21 Revolutions Artist Delphine Dallison, it was a great success- thanks to all who attended. Please drop into see the exhibition between now and the end of the month and why not make your very own badge while you are here?!
By GWL Volunteer Shaunagh Jones
Badges of Honour is funded and supported by Heritage Lottery Fund.