Thursday saw an amazing event in Glasgow Women's Library. Thanks to Commonwealth Poets United we were able to welcome Salma, an Indian Tamil poet who, against the odds and the wishes of her family and husband, became firstly a published poet, then a politician.
Salma's story is inspiring.
Through her poems and novels she has challenged the narrow roles forced on women who, like her, were born into India's rural areas where male-domintaed tradition still holds sway.
In the film, Salma, feminist film-maker Kim Longinotto has documented the story of Salma's journey from enforced purdah to international poet, and the impact that has had, not only on her life, but on the lives of her family and the people in her village.
Women at GWL sat rapt as Salma, in her soft, musical English, explained how she had been abruptly removed from education the age of 13 when she started menstruating. Her destiny, according to the strict rules of her village, was to wait enclosed in the house until she entered an arranged marriage. But Salma had tasted education and was not going to give up so easily. Coming from one of the better off families in the village, she was able to get a hold of a wide range of classic works in translation, including works by writers such as Chekhov, and she survived her long confinement by reading voraciously – and dreaming.
Most of all, Salma dreamt of becoming a writer.
And despite eventually being tricked into an arranged marriage, that's exactly what this inspiring woman has done. Though, as she explained, when her husband discovered she had been writing poems and had had them smuggled out for publication he was angry and used violence to try to dissuade her. Even threatening her with acid.
Salma has fought against the wishes of her family, the rules of her village, the restrictions on women common in rural India, and followed her dream. It wasn't easy. She was confined for 25 years, until chance played a part when her husband found it might be in his interest for his wife to enter public and political life. Of course, he hoped Salma would be his mouthpiece. Instead she has become the mouthpiece for every woman who, like her,  has suffered oppression on the grounds of gender, and who has dreamed of living a full and creative life.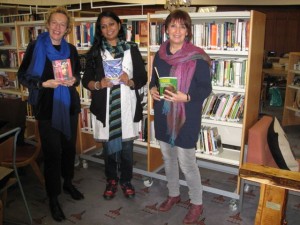 Kim's excellent documentary of Salma was screened at the Glasgow Film theatre (GFT) on Sunday 13th April as part of the ArtScreen Festival. If you missed her at GWL, seek out the book, Salma, Filming a poet in her village, available as a paperback and e-book from www.orbooks.com  Or you could always come in to GWL and borrow our copy! Signed, of course, by Salma herself.
ANNOUNCING OUR NEXT VISITING POET!  
Poet, Louise B. Halfe, also known as SKY DANCER grew up on the Saddle Lake Indian Reserve in Canada. In her second book, Blue Marrow, she blends voices of the past in story, poetry and journal. Louise will read from her work and take part in a Q & A session at lunchtime. She will then lead a poetry workshop. Come to one event or both – but please book as numbers will be limited. An amazing opportunity to hear an indigenous Canadian writer in GWL. In association with Commonwealth Poets United.
Thursday 15th May, 2014
Reading Event: 12.30 – 1.30
Poetry Workshop: 2.30 – 4pm. Advance booking required.