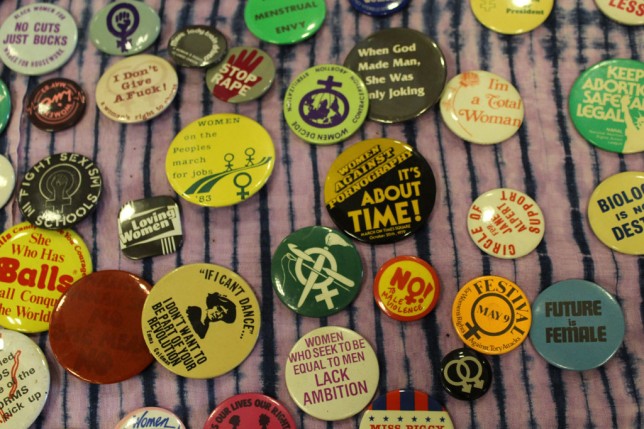 Last week we were visited at the Library by Ann and Alex Davis who were ferrying to us (all the way from Spain) the most amazing badge-booty for our Badges of Honour collection. This feminist activist button-hoard belonged to their late friend, Peter Gilpin. 'Gilpin' as he was known to his friends, had been collecting all manner of badges since the 1970s. Sadly, Gilpin passed away last year, almost exactly a year ago to the day, and since then his partner Gayle Foster has begun to make roads towards donating his extensive collection, which in total amassed to over 25,000 badges, to Museum Collections. The collection ranges from Anti-Racist, Anti-Thatcher and Miner's Strike boards to American Fast Food and even one named Swedish Save the Whales..! We are absolutely delighted that Gayle has kindly donated Gilpin's 'Women's Board' to the GWL archive and will be proudly displaying it as part of our upcoming Badges of Honour exhibition, May 1 to 23, 2014, and from then onwards it will form an important part of our GWL badge collection in the Archive.
Here are a couple of images of just a few of the badges featured on Gilpin's Women's Board. Pictured here are badges foregrounding important women's rights issues: 'Keep Abortion Safe and Legal,' 'Stop Rape' and 'Fight Sexism in Schools,' to the catchy slogan 'Biology is not Destiny' and the feisty 'She who has BALLS shall conquer the world.' Every badge on this board has its own story and an invisible thread links it not only to the causes foregrounded, but also to the women who have at one point or another, sported these badges in support of these issues. And these badges must have belonged to so many. According to Gayle, Gilpin 'never hesitated to charm, wheedle or demand a badge from total strangers' as well as having a number of friends (in the UK and US) who would collect badges on his behalf and send them to him, adding to his ever amassing collection.
There are an infinite number of stories attached to these buttons. We will be sharing these (the ones that we know of, there are many we need to connect to their story) to highlight over the coming weeks in the lead up to the exhibition and featuring them here. Our first choice is the badge that reads 'I'm a Total Woman' This is a direct link to Rosetta Reitz, a radical New York Feminist, born in 1924, who was an author and jazz historian and who Gilpin met while staying in New York in 1984. As well as being a member of the New York Radical Feminists and co-founder of the Older Women's Liberation (OWL), she owned a small record store 'Rosetta Records', which she ran out of the spare room of her Greenwich Village apartment. Her aim with the store was to bring to light the contribution that women musicians had made to Jazz and the Blues, women who were largely ignored by the music industry. Rosetta made 17 compilations of albums of women's vintage jazz and blues over the years, right up until her death in 2008. The badge 'I'm a Total Woman' was made to promote the first of these albums, and sits on the board alongside other badges with slogans 'Big Mama Lives,' 'Mean Mother' and 'Wild Women don't get the Blues'.
As part of the Badges of Honour exhibition we will be re-building Gilpin's Women's Board, so it resembles exactly the way it was before it had to be taken down to be safely transported to us at the library. We hope you will visit us at the library during the Badges of Honour Exhibition to get a good look at these badges for yourself, and share your stories with us.
We send a heartfelt thanks to Gayle, Ann and Alex, and Gilpin for this wonderful donation to the Glasgow Women's Library archive, which we will treasure.