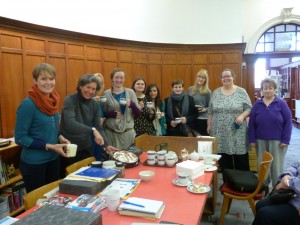 On Monday the library officially opened the door of its new home to the public. It is fantastic to finally be in a permanent home with so much potential. So far there has been a fantastic amount of interest in the library's new building, which visitors seem to love.
The opening of the library was celebrated in true GWL fashion with tea and cake, which featured the GWL logo and was delicious. The lending library is once again accessible to the public and work on the numerous projects at the library is still ongoing. There is also already planning under way for a number of new events at the library's new home.
There is a huge amount in store for the Glasgow Women's Library at its new home including an extensive amount of work to be done on the building in the new year. If all goes according to plan phase 2 will begin in January 2014, which means the installation of a lift, the development of museum space and much more.