We are very pleased and excited to have now relocated and to be up and running in our new permanent home in Landressy Street. We look forward to welcoming you all soon.
This huge undertaking marks the start of a new chapter in the life of Glasgow Women's Library.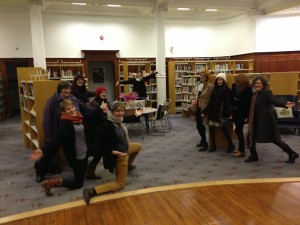 Phase 1 of our overall building relocation and renovation strategy has involved the redecoration of and minor changes to the ground floor library space. The GWL lending library collection is now accessible and our exciting learning programmes are ongoing. We still have minor works to undertake in this Phase, but nothing that will stop us providing our vital resources, learning programmes and services.
Phase 2, to follow, is very exciting indeed, involving major internal refurbishment works to build our dedicated archive and museum spaces and a new learning venue. There will also be significant external structural works and the installation of a lift. We hope that this Phase will start in January 2014, with completion in June. While this is in progress, there continues to be only limited access to the archive and museum collections and some items remain in external storage.
We will keep you up to date with developments – sign up to our mailing list or join the Library to get regular news from GWL. In the meantime, thank you for your ongoing patience – it will all be worth it!
We still need to raise funds, both towards this building work and towards increased running costs for the upkeep of this remarkable, historic building, so please do support us through our Women on the Shelf initiative or by becoming a Friend of GWL
Thank you for all your support and please do come to see us soon in our beautiful new home.
We would like to thank Clyde Gateway, Glasgow City Council and Glasgow Life for their ongoing support.