We are absolutely thrilled and honoured to have won the Arts & Business Scotland 'Enterprising Museum of the Year' Award 2013-14, sponsored by Museums Galleries Scotland.
Glasgow Women's Library scooped this prestigious accolade for our project 21 Revolutions: Two Decades of Changing Minds at Glasgow Women's Library.
Sue John and Adele Patrick attended the glittering Arts & Business Scotland Awards ceremony at the Music Hall in Aberdeen on Wednesday 30th October on behalf of Glasgow Women's Library.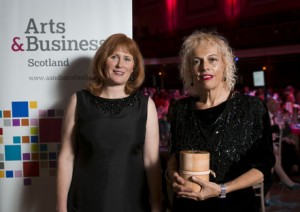 The 'Enterprising Museum of the Year' category celebrates innovative and entrepreneurial projects that have delivered an ambitious high-impact museum related experience. There were three projects shortlisted. Glasgow Women's Library was chosen as the winner as the project was of a very high quality, demonstrating an innovative way of engaging people with the collections whilst taking an enterprising and sustainable approach to income generation. The other two finalists, Aberdeenshire Council and the Scottish Fisheries Museum were commended for projects which took the museum collections out into their local communities.
Joanne Orr, CEO of Museums Galleries Scotland, said: "The museums sector in Scotland is alive with creative and ambitious people who are driving forward some incredibly inspirational projects. MGS is delighted to sponsor the Arts and Business Enterprising Museum Award which highlights and celebrates prime examples of this aspirational work. I congratulate the winners Glasgow Women's Library on their much deserved award, and commend the achievements of the other two shortlisted projects by Aberdeenshire Museums Service and the Scottish Fisheries Museum – as well as warmly acknowledging all the organisations who entered their enterprising and imaginative projects for this Award."
Read more about the award on the Museums Galleries Scotland website.