A Reading for Wellbeing recommended read
Buddha Da by Anne Donovan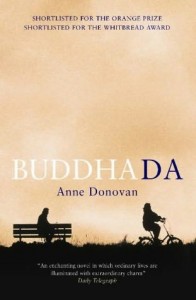 A gem of a book enhanced by the style of writing in which it is written, that being a broad Glasgow dialect.
 The story is told through the eyes of each member of a family.  This allows you to get to know each character quite well.  The father is known as Buddha Da who seems to be the catalyst for all that follows in the book.
Although the book deals with serious issues, for example: discovering religion, marital discontent and teen dreams it treads lightly and with gentle humour when appropriate.
Once the first page is opened you can't put it down.  An absolute treasure of a book.