On the 10th of August the library were at Pride Glasgow telling people about the library and it's events, in particular the Badges of Honour project. On sale at the stall there was also the third issue of ,the young queer feminist zine, Hens Tae Watch Oot Fur and the badges that were made along side it .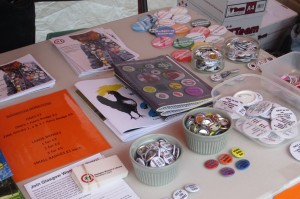 There was a fantastic turn out on the day and a lot of interest in the library and all the stuff that is happening surrounding badges. There was many activists who visited the stall who seemed really interested in showing their pride in their activism with badges. The badges made with the zine were a big hit, especially the hens and closet badges.
 Everyone loved the idea of showing their pride with badges and this was clear throughout the whole of pride.Everyone seemed to be covered with badges, stamps and stickers showing their LGBT pride.  It's clear that the people of Glasgow love the fact that they are fortunate enough to live in a place they can show their pride freely.
 Many different people visited the stall some who had visited before and were very excited to hear about the library's fast approaching move, and all the new events that have been going on, and some who had never heard of the women's library but still seemed very interested in all the fantastic work the library does.
 For me personally one of the most memorable visitors to the stall was a young activist women who had only recently discovered the world of feminism and was wondering if the library had any advice on how they could get more involved in feminism. One of the greatest things I think the library is capable of doing, and has been doing for years, is helping women reach their potential and express their interest in activism in whatever way they please.
 All in all it was a great, and thankfully dry, day in Glasgow Green for pride. There was a good bit of awareness generated for the library, one or two badge donations made to the archive and some money raised for the next issue of Hens Tae Watch Oot Fur, so all in all I would say the Glasgow Women's Library's day at pride was a success.