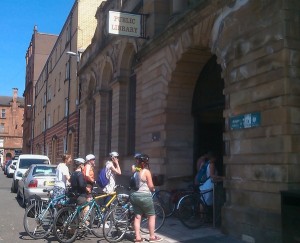 On a blazing sunny Saturday afternoon three led cycle rides set off from Kelvingrove Park, Queen's Park and Tollcross Park, courtesy of the lovely Belles on Bikes ride leaders. Destination: our future home in Bridgeton!
History,…
The riders rendezvoused at St. Andrews in the Square to hear a little about the life of Agnes Craig and her correspondence with Robert Burns from our fantastic Women's Heritage Walks tour guides. Then we rode on towards Glasgow Green and the Templeton carpet factory, a delight to be in the company of so many women on bikes, and such a lovely day! We paused while Delphine Dallison, one of our 21 Revolutions artists, told us about a piece of her artwork which is mounted at the gate to the Green. From there we continued to our future home in Bridgeton, via the Templeton building and a stop to learn about the female weavers who worked in the carpet factory.
scones…
All that cycling had left us with a terrible drought, so the tea and scones were most welcome…
…and bikes.
Many people said they enjoyed the chance to have a look round the new library, and the afternoon was a great opportunity for women to share their knowledge of safe routes in and around the city, cycling facilities and things to look out for, both good (the Govan Stones at Govan Old Church) and not so good (potholes!).
This was also a grand opportunity to share information on other great projects happening nearby – just a couple of suggestions to check out were the new British Film Institue Mediatheque at Bridgeton Library, the ongoing Forestry Commission Storybike rides through woodland in and around Glasgow and the lovely Belles on Bikes group.
There are a few more bike-related ideas being mulled over at the moment so any suggestions and ideas are very welcome! Cycling can be a great way of getting out and about and seeing different parts of the city – and if you need some inspiration for getting on your bike here are a few of the Bikes and Scones cyclists' reasons for loving cycling:
 "Makes me feel like part of a special club (that everyone should be in!) when a fellow cyclist nods on the way past :)"
"Being able to get wherever I need to be so much quicker than any other public transport. Plus it's free!"
"Space to be – just be – not to think or sort out the problems of life. "
"The gift of the descent after that long hard hill…"
"Very freeing!"
Please get in touch if you're interested in more bike related activities at GWL.  We look forward to hearing from you!