A Reading for Wellbeing recommended read
The Big Music by Kirsty Gunn
The story is set in Sutherland.  It is presented as a collection of found papers and notes.  It weaves the composition of bag pipe music, known as `piobaireachd` or Big Music through six generations of a piping family.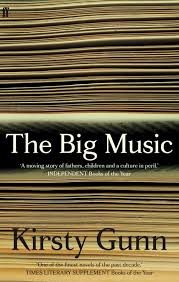 Big Music describes the differing lives of each generation of piper. The growing wealth and status of the family is symbolised by the increasing size of the Grey House and the evolution of the Piping School within it.
The wildness of the hills around Grey House is hauntingly described through the music and the attachment of its people to the land.
The main character, John Sutherland of Grey House, is dying and trying to compose music to encapsulate his life.  Even as he grows weaker he tries to climb the hills, with stolen inspiration, to a hidden place ,where he hopes to compose free from the his  past and the history and pressures of the Grey House.
This book is like no other that I have ever read. It sucks you in with its intensity and uniqueness. Even the above description feels inadequate but I am sure other readers will enjoy it.