The third Badges of Honour visit took place on Wednesday 19th June. This was an rare chance to visit the Glasgow Museum Resources Centre (GMRC), based out at Nitshill.  GMRC contains some of the most diverse treasures that document Glasgow's history, ranging from vintage cars to precious artworks and much more. It may not surprise you to know that the GMRC holds an extensive badge collection and we were invited to see a small sample of their badges.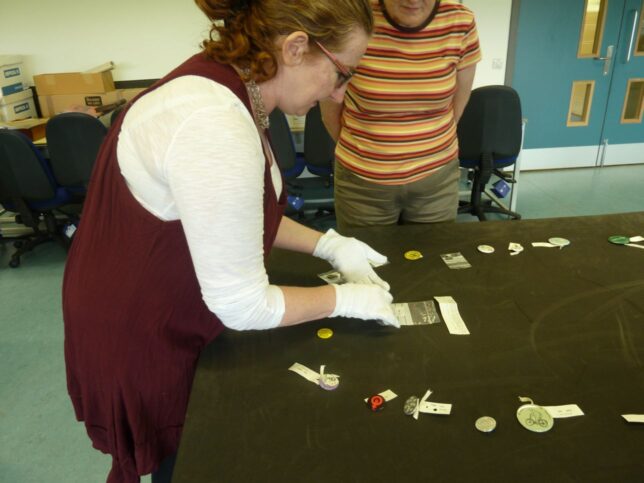 Fiona Hayes, Social History Curator, talked us through the badges and the variety within their collection. The oldest badge in their collection is a medal awarded to a woman for her work in the anti-slavery movement in the 19th century. The group got quite excited about this old and precious object that has been preserved for future generations to enjoy. Once we had put on our white gloves, we were able to pass the medal around the group. It was surprisingly light and did not feel as heavy as some of the badges the group have seen at other visits.
We asked Fiona how badges found their way into the collection. Most of the badges are donated by members of the public, as long as it fits with their collecting policy (a document which gives a brief summary of what they would or would not collect). Some objects, such as the anti-slavery medal, are purchased at auctions or from private sellers.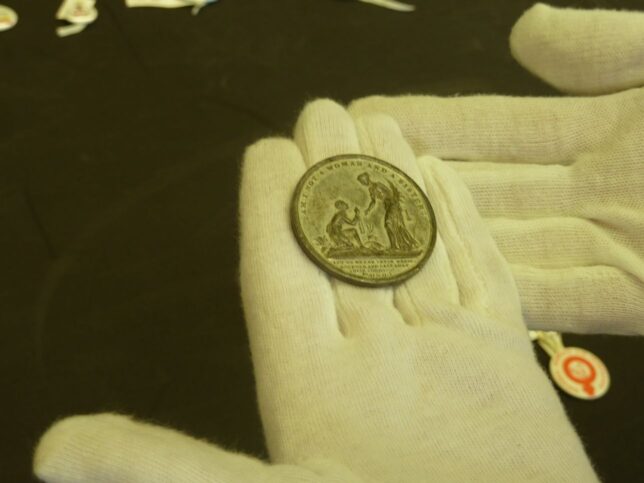 I was quite pleased to see echoes of GWL's badge collection held by GMRC. For example, GMRC have a large number of Scottish Women's Aid badges many of which are also contained within GWL's collection. There was another similarity between GMRC and GWL's badge collections: they don't know much about the people who wore these badges. Unfortunately GMRC do not have a record of who owned the anti-slavery medal. It would have been fascinating to know more about the woman who wore this 'badge.'
That's why the Library is so pleased by the response to the Badges of Honour project. You can hear some of the stories captured so far by watching our trailer here.
The next Badges of Honour visit will take place at Glasgow Caledonian University Archive and Special Collections, Tuesday 23rd July 2-4pm. The final Badges of Honour visit will be at the School of Scottish Studies, University of Edinburgh, Monday 12th August 1.30 – 3.30pm. Booking is essential for both of these visits and attendance is capped at 15 people. We can help with travel expenses so don't let that put you off coming along. Contact us to book your place and find out more.