This month Anabel reviews Room by Emma Donoghue.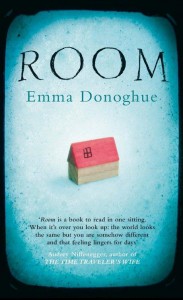 Is truth stranger than fiction? Five year old Jack lives with Ma in Room which has a locked door and a skylight – he knows no other world, and the only other person he encounters is Old Nick who visits at night while Jack sleeps in Wardrobe. Far-fetched? Not after news of three women in Cleveland, Ohio, who disappeared a decade ago and were allegedly abducted and held prisoner by three brothers until their recent escape. One of them, Amanda Berry, also had a child. There have been similar cases over the last few years: Jaycee Dugard, Elizabeth Smart, Shawn Hornbeck and Natascha Kampusch, the Fritzels. This book is no stranger than real life.
Emma Donoghue writes in Jack's voice, and through his naïve relation of the story we deduce that his Ma is an ingenious woman. She devises games and lessons within the confines of her 11 by 11 foot home to develop his mind and body. Sometimes there is an ulterior motive which passes Jack by – jumping up and down on the bed screaming at the skylight is, to us, an obvious cry for help. This is a real strength of the book – we are not told directly what is happening, we have to work it out by looking through the eyes of a little boy who believes there is no other world than Room, making the reality we spy beyond much more powerful.
Eventually, Ma and Jack escape Outside where both have difficulty adjusting. Jack doesn't understand the rules (or that there aren't any) – it's almost as if an alien has landed on Earth; everything is so strange to him. Ma finds that family relationships have changed, and she doesn't find it easy to fit back in. Old Nick's fate is not much dwelled upon – he might seem to have been too easily fooled by Ma's plot, but again this mirrors real-life where captors seem to grow careless, or maybe they are so complacent that they truly believe their victims will not want to leave.
This is a disturbing, but absorbing book. At its heart is the deep love of a mother for her son and her determination to protect him at all costs. We can't begin to imagine, and their rights to privacy mean we should never find out, what the women in the real-life stories experienced, but Donoghue's empathetic guess is an admirable attempt.