This month Madge reviews Maya Angelou's autobiographies, which tell the amazing life story of this truly inspirational American poet and author.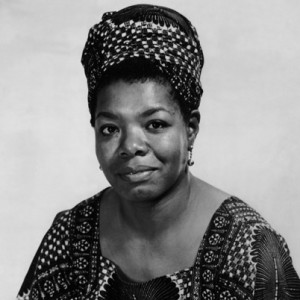 I started reading this series of autobiographies – six in total – by Maya Angelou, just before Christmas. I finished the series in eight weeks; a record for someone who reads one or two books a year. I can't recommend them highly enough.
The six books in order are: I Know Why the Caged Bird Sings, Gather Together in My Name, Singin'  and Swingin' and Getting  Merry Like Christmas, The Heart of a Woman, All Gods Children Need Traveling Shoes, A Song Flung Up to Heaven.
This collection of autobiographies on the life of Maya Angelou traces the best and worst of a black American's experience of racism and poverty in an honest and personal way. 
I Know Why the Caged Bird Sings
Recounts her early years and a childhood affected by rape, racism and apathy. She also speaks about her love for her brother Bailey, the comfort she found in books and growing up both with her grandmother in Stamps, Arkansas and her mother in San Francisco.
Gather Together in My Name
Continues Maya Angelou's story.  It's the end of World War II and Angelou, still  in her teens, has given birth to a son.  The next few years are difficult ones as she tries to find a place in the world for herself and her son. She goes from job to job – and man to man. She tries returning home to Arkansas. However, she discovers that she is no longer part of that world.
Singin' and Swingin' and Gettin' Merry Like Christmas
The third volume of her autobiography covers the saga of her show business career, her failed marriage, her early motherhood, and having to leave her son behind for two years whilst she tours Europe and Africa as a dancer in Porgy and Bess.
The Heart of a Woman
This volume sees Angelou leave California with her son, Guy, and move back to New York.  She joins the world of black artists and writers, and reads her work at the Harlem Writer's Guild for the first time.  She  also begins to take part in the struggle of black Americans in their fight for equality. Meanwhile,  her personal life takes an unexpected turn. She leaves the bail bondsman she was intending to marry, after falling in love with a South African freedom fighter who she travels with to London and Cairo, eventually ending up in Ghana with her son, Guy. After four years she returns to America to work with Malcolm X.
All God's Children Need Travelling Shoes
The fifth instalment recalls the time in the mid-sixties that Angelou spent in Ghana discovering her African roots.  It opens our eyes to the turbulent times of the Civil Rights Movement, introduces key figures of that period, and talks about her friendships with  Malcolm X and Martin Luther King before their untimely deaths.
 A Song Flung Up to Heaven
The conclusion of Angelou's six volumes of autobiography begins with Angelou returning from Africa to the United States to work with Malcolm X. No sooner does she arrive, than she learns that Malcolm X has been assassinated. But when Watts explodes in violence, she goes there and described the riot firsthand.  She later meets and goes to work for Martin Luther King, Jr. Once again tragedy strikes. King is assassinated, and this time Angelou completely withdraws from the world, unable to deal with this horrible event. Finally, a friend forces her out of isolation and insists that she accompany him to a dinner party – where the idea for writing I Know Why the Caged Bird Sings is born.
Summary
Throughout these books  the image that came across to me was that Maya Angelou – despite all the trails and tribulation in her life – was, and is, a strong, black, proud African  American woman. Through reading these books my admiration for her has grown enormously.