A 'Reading for Wellbeing' recommended read!
Cavedweller by Dorothy Allison
This is a fantastic story set in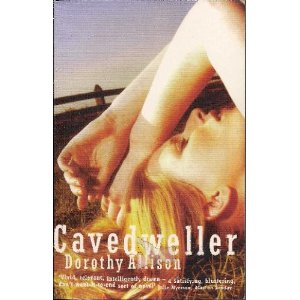 the deep South.  It tells the tale of Delia Byrd who left her hometown of Cayro, Georgia, fleeing her abusive husband and abandoning two infant daughters.  Following the death of her estranged rock-star boyfriend in LA, she returns home to reclaim her daughters, with a third daughter in tow.  But the locals don't plan on making it easy for Delia… Luckily she is taken in with open arms by her larger-than-life lost-long friend M.T, and she slowly but surely begins the painful process of rebuilding her life, and tentatively forging a relationship with her daughters.
I just loved this book. What really shines through is the strength of the female characters.  There is a great sense of women pulling together and supporting each other during extremely difficult times, which is empowering, comforting and just really wonderful to read about.  Delia is an intriguing character – a real mix of fragility and tenacity.
Although this novel deals with challenging themes – domestic violence, death, judgement, small town prejudices – it's really infused with a strong sense of hope and resilience.  And the writing is just beautiful – haunting, earthy and lyrical.
Pick it up and you will devour it in no time!