A 'Reading for Wellbeing' recommended read!
The well and the mine by Gin Phillips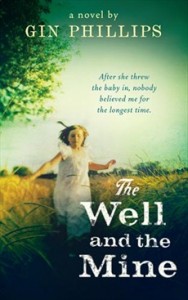 The Well and The Mine is set in a small coal mining community in Alabama during the Depression. Nine year old Tess is sitting on her favourite spot on the porch one night when she sees a woman throw a baby into the family's well. The first line is "After she threw the baby in, nobody believed me for the longest time.
But I kept hearing the splash." It sounds as though it would be a really depressing book, but it's not – it's hopeful, funny, touching, thoughtful and anything but depressing. The story is told alternately by Tess, her older sister Virgie, her younger brother Jack and her parents Leta and Albert. Tess and Virgie decide to find out who has thrown the baby in the well, but the book is more about the characters, family and community and about life during the Depression.