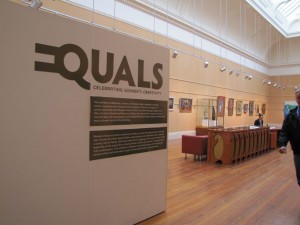 It's not often you get three fabulous women-only exhibitions happening in or close to Glasgow at the same time, but right now we have GWL's own 21 Revolutions exhibition at the CCA from 22 September – 13 October, Studio 58:Women artists in Glasgow since World War 2 at the Mackintosh museum and, at Paisley Museum and Art Gallery, Equals  from 29 June – 21 October. 
Equals celebrates a century of female artistic creativity, including new acquisitions for the museum's permanent collection. Alongside this exhibition is Herstory Portrait from the artist Sharon Thomas, a series of egg-tempera portraits of seven inspirational women, several of whom are the first females to gain key positions in their respective professions. I spoke to Equals curator, Andrea Kusel and artist Sharon Thomas about both exhibitions:
Andrea talked about the content of the Studio 58 exhibition:
AK: There's quite a range of work in the Studio 58 exhibition; there's work in different media.It's not just work of a certain style, there's textile, product design, costume and publications which aren't here at Paisley so people should go to both exhibitions, ..if people go to the two projects, it's quite a good introduction to the women of the last century.
Andrea also talked about the curating of the exhibition and how she gathered work from the Lillie Art gallery and the Auld Kirk Museum in Kirkintilloch
AK:  ..the Lillie Art Gallery in Glasgow lost its curator and I thought there was a really great selection there that the Glasgow city people weren't necessarily aware of so I saw this as an opportunity to bring some of that work here. And there had been a lot of work collected in the past few years that maybe wouldn't be seen as very fashionable in the last few years because it was representational such as the Lesley Banks and I thought the collection there would be quite good here. … The exhibition is essentially work in our collection.. There are new acquisitions here which arrived not necessarily for this particular exhibition … but the work from the Lillie Art Gallery I borrowed specifically for this exhibition.."
  MS: What made you pick that title, Equals?
AK: Well, I wanted it to say that it was an exhibition of female artists… I didn't want it to say Glasgow Girls, ..because..although I could understand why Glasgow Girls is like a response to Glasgow Boys … you know it's quite belittling, I think. And it's not entirely Glasgow School of Art or that period we know of…  Maybe thinking if there's an exhibition of female artists then maybe it's just a chance to say this is no better, no worse, they are equals. Also I think people aren't naïve enough not to know that it's often more difficult for women to produce work professionally and certainly for a lot of the artists in the show it was very difficult for them to produce work and they didn't have equal status in terms of being able to continue work and teach as professional artists …just touching on that without banging on about it… although there are many successful female artists who are household names today, we still assume women…to have a more caring role towards the family and lack that opportunity to concentrate fully on work..
ST: Historically,…you got married therefore your role as an artist was finished, you were the carer, the mother…I didn't realise that was considered the unspoken law
AK: for a while when women got married they couldn't actually work
ST: Which a lot of people don't realise, and I had this realisation that there's been a big … change in attitudes towards women working, as historically, unfortunately that was the reality for women artists…These women were really rebelling at the time, they wore badges, they did public speaking…..and painting was a form of rebellion.., I find that fascinating..if you look at the historical part of it there was actually massive rebellion going on..
AK: Also, I thought it was quite an interesting coincidence that … one of the portraits that Sharon has made is of Seona Reid, the first female Director of Glasgow School of Art, but she shouldn't have been the first for lots of reasons, …it should have been Dorothy Carleton Smyth, the sister of Olive Carleton Smyth who is in this exhibition here, had she not died before she took up her post and that was many, many years ago. But … I think that Glasgow School of Art in the early part of the last century was a place of opportunity for women who wouldn't have got those opportunities elsewhere …although  I don't know the truth of that. So for instance… there is a book designed by Jessie Newbery called "Paisley Thread and the Men who Made it"– wasn't it women who made it? (laughter).  That was the environment in which she grew up.   But Glasgow School of Art was an environment in which opportunity… where people could be promoted and encouraged. And if you had an inspirational female teacher and you were a female student, you had someone to look up to, and you could say I could do that it was okay for a women to do it take things on not just as a hobby but …as a career… a lot of people said that Sam Ainsley was one of those inspirational women from a recent generation of women artists and Sam's in the exhibition …you know… But then there was that period … when everything went backwards and women weren't allowed to work as teachers…after marriage and that had a knock-on effect it probably made people think art is something I do until I become a mother…
ST: One thing that was important about Sam Ainsley is that she established the Masters of Fine Art at Glasgow School of Art which had a massive effect…it was in this department that established now respected artists such as Christine Borland and Douglas Gordon- that put Glasgow in the contemporary art map: aiding all of its young and practising artists in the city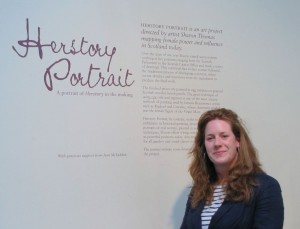 Sharon talks about the technique of egg tempera, which is used in Herstory Portrait:
ST: I trained in historical painting techniques during my Master's degree at the New York Academy of Art (2001-4); which included the process of egg tempera painting that the Herstory Portrait series uses.  This form of painting is one of the most ancient means to depict imagery most prominently seen used during the European Renaissance period (14th -17th Centuries).  Many will recognise the many portraits of the Virgin Mary in the period by artists such as Raphael or Cimabue that of course were imagined and proposed images of an 'icon; or concept of a cherished woman.  They of course did not have her there to sit for them- for a commissioned real life portrait. For me the missing part of art making historically and which frustrates me as a painter is that there are not images of women at their tasks- painted for themselves (unless they were of the tiny few that painted themselves- such as painters like Angelica Kaufmann).  Instead we have an historical catalogue of millions of paintings of women painted by men- who are either married to them, cooking for them, cleaning, being raped or displaying their sliced breast on a glass plate for fun and 'holy reverence'. All the women, (who sat for the Herstory Portraits) they've actually all got their own careers, schedule and in this work even their own colour.  In this work all of the sitters are allocated one of the 7 colours that make up the Colour Spectrum – which explains the title of the work – Herstory Spectrum.
MS: What about the technique of portraiture – it's seen quite traditionally as a masculine thing..?
ST: Seona Reid, one of the sitters, she's been Director of Glasgow School of Art for 10 years and I know for a fact she's never been painted, it's stupid,..but this is the situation you get that people (women) haven't been documented..I make a lot of paintings about my life..and when I started this project..I knew that it was going to be something that hadn't been done before, and I knew these women hadn't been documented … historically, you look at all these pictures of … Prime Ministers or whatever and women are just not there…
AK: I think it's seen as unfeminine to blow one's own trumpet, you know..
ST: …Women were like "I'm not interested in having my portrait painted"… it's like the subjects (in Fine Art) are normally bald men in their eighties…or the naked women!
AK: So they were actually quite surprised that you would want to document them?
ST: …Yes, for instance one of the subjects was conscious that they were not wearing makeup… which is in stark contrast to the men I have painted who are very complacent, they don't have that conversation, they just sit down (throws her arm over the back of the chair) and say, "right, do it".  Women I realise are completely the opposite in their attitude to portrait painting- again another example of this is that … one of the subjects seemed consciously nervous during the sitting- meaning that I had to chat and sketch to calm/relax the situation, or another was sheepish and yet other sitters were confident.  Though confident in their work and endeavours, unlike the men that I have documented and studied- women are not as inclined to strike an historical visual pose….which I find bizarre.
AK: There's something, you know, that I find quite interesting there because you know, as a woman painting a woman and historically most professional artists have been men…We have lots of portraits by male artists…and a lot of pictures of women, but you know, we do have some portraits of women. Women are often unknown, but often because their chosen as an artist's model and they're often in various states of undress and they're chosen for their youth and their beauty, but not for their achievements and here you, Sharon, are choosing women not for their youth and beauty,  …it's really quite unusual… Maybe it's because it's a perception that this is what females do when they pose…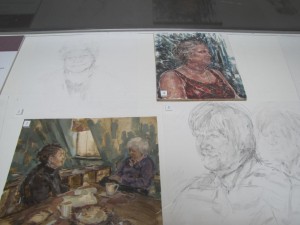 ST:  Earlier women artists, …I doff my cap to them..there is one woman artist called Madame Vigée Le Brun that painted Marie Antoinette..18th Century… and she led a fascinating life that I find inspiring.  I came to know her work whilst I was in New York and read her diaries just after I had my daughter.  She was a tough self-employed painter based in Paris, who, as a mother of a little girl, had to deal with a gambling husband (they divorced) and daughter- who had to go into international hiding after Mary Antoinette and all of her entourage were executed.  Vigee Le Brun was one of the first women members of  the  Académie Royale de Peinture et de Sculpture– secured by Antoinette, and spent many years painting portraits all over the world (e.g Russia) on her constant travels with daughter in tow, giving birth to another child whilst trying to complete another portrait commission – who very sadly died in infancy.
MS: If you were to pick out one or two of your favourites from the Equals exhibition, or something that would really stand out for you?
AK: Probably in the Equals exhibition, … I really liked the new Mary Redmond commission. It was funded by the Contemporary Art Society …. she's based it on the Paisley pattern ..
ST: The Joan Eardley pieces…which include not only beautiful sketches but the children's play pen that belongs to the Museum collection.
AK: Well, that came in to the collection shortly before I joined the museum service in 1996. It had never been on display… but it's an interesting thing with a story behind it. During the war, Joan Eardley wanted to continue painting, doing her work so, rather than be sent away to work as a land girl or something she stayed close to home and painted camouflage on tanks in Bearsden. During that time she painted the playpen for the family of a local joinery firm.   Interesting, she was always fascinated by children but she never had any children herself …
ST: 'Artisthood' and children is a touchy area for women- which I came to discover when I did the marriage thing and wanted very sincerely to contribute life matter to the planet…I was utterly thunderstruck by the decisions that friends/teachers/business people I worked with or knew when I was living in New York made, who had decided that it either was an artistic career or children.  This was not a decision that I was going to make- and is not a decision that should have to be even considered!  This dilemma is very much part of the work that I make- juggling motherhood of a young girl and 'artisthood' of studio work.
AK: My daughter, she's now 24, she's working… I remember when she graduated she said to me, 'gosh mum, I appreciate now what you did'… I managed to start off working, but, you know, my mother gave up work when she became pregnant with me…and that's changed for the better. But still, that's the thing that is so difficult… to retain a family on an income. It goes back to the equals thing..equal responsibility, equal ability, equal opportunity… hopefully, we'll have it all one day. But I mean, look how far these women have come, some of the women you are documenting, and some of the female artists in this collection…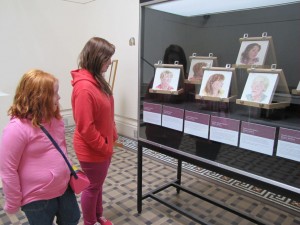 Equals and Herstory Portrait are at Paisley  Museum and Art Gallery until 21 October 2012.