In January 2012 I began working with the Rainbow Sisters, a youth group run by LGBT Youth Scotland. The group helped to organised a Lesbian Archive Open Day to celebrate LGBT History Month in February. One collection that caught their imagination was GWL's expanding zine collection. Inspired by the Do It Yourself ethos, the Sisters decided to create their own zine. Even better, they decided to spread the word about the Lesbian Archive by promoting the zine at Glasgow Pride. And so, Hens Tae Watch Oot Fur was born!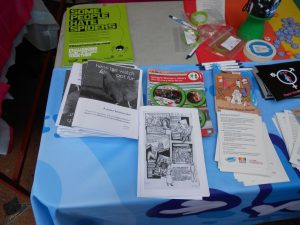 The quality of the zine content is staggering. The Sisters produced cartoons, poems, critical  social commentary and a short story serial, all guaranteed to keep the pages turning. At Pride, the copies of the zine were flying off LGBT Youth Scotland's table. One lasting memory I have is a young man running up to the table, squealing with excitement "There's zines, there's zines!" Off he went, with his copy of Hens Tae Watch Oot Fur proudly tucked under his arm. Another woman picked up copies for her teenage daughter and her friend, with a hint that they might contribute to the next issue. I am pleased to report that over forty of the zines were distributed at Pride. There is already demand for a second issue. Of course, a copy has already been added to the archive's collection of zines.
At the moment, we are working on another print run of the first issue. This should be available via the GWL shop and retail outlets, to be confirmed at a later date. Keep an eye on the website to get your hands on a copy!
For more information about Rainbow Sisters and other groups run by LGBT Youth Scotland, please click here.. To find out more about GWL's zine collection, please click here.