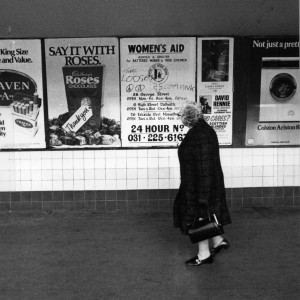 For 16 Days of Action to Eliminate Violence Against Women we are holding a couple of events in December 2011.
Scottish Women's Aid 35th Anniversary Exhibition
Working in partnership with Scottish Women's Aid, we are proud to present this exhibition, organised to celebrate the 35th anniversary of Scottish Women's Aid. Using photographs, film and memorabilia it will highlight the work undertaken to address the issue of domestic abuse in Scotland. The exhibition will encompass the campaigns, legislative and policy breakthroughs and developing understanding of the issue over the lifetime of the organisation.
The exhibition will run throughout the 16 Days of Action to Eliminate Violence Against Women,from Tuesday 29th November until Saturday 10th December, Monday to Friday, 9.30am-4.30pm. Come and see it at the library.
Women Make History: 16 Days of Action
The women's movement has had many successes over the decades, although often the ongoing experiences of discrimination can make it feel as though little ground has been made. This event will highlight the violence against women campaign in Glasgow and Scotland, and claim it as one of the real success stories of the movement.
Thursday 1 December, 6pm to 7.30pm (£3/free)
Using some of the documents from our unique collections at GWL we will chart the VAW campaign's growth over the past 30 years. We will explore its influences in both Government and public attitudes towards the continuing phenomenon of men's violence against women and children, with discussion about what the future could hold.
To book please contact the library on 0141 248 9969 or click on the titles above to take you to the event page.