She Settles in the Shields provides a unique opportunity to meet the women who travelled to Scotland from all over the world, in search of family, love and security. Told in their own words, the women reveal a fascinating story of hope, isolation, warm welcomes, cold weather, racism and the quest for acceptance and integration.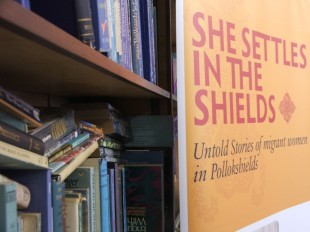 Many of these women have made significant contributions to the Pollokshields community, witnessing major changes along the way.
Thursday 27 October, 10.30am to 1pm
The Pollokshields Burgh Hall
70 Glencairn Drive

Booking is essential.
To register your interest and get a place on the guest list for this event please complete the quick booking form below or call Syma on 0141 248 9969.
The venue can be accessed by train to Maxwell Park Station. Get off the train and exit towards Terregles Avenue. On Terregles Avenue turn right, then left up Glencairn Drive and Pollokshields Burgh Hall is at number 70, based within the grounds of Maxwell Park. If travelling by bus there is First Bus no 59 from Union Street at Central Station. The bus at 10:02am or 10:32am will get you in for between 10.30am and 11am. Get off the bus on Albert Drive at St John's Road it is a 10 minute walk to the venue. Click here to view directions from the bus stop.
If you are not already a member of the library you can join here: it's completely free.
[contact-form-7 404 "Not Found"]