Women Make History drew me in to the library around October 2 years ago*. I'd always had a soft spot for "the old days" stories my Gran would recount and hoped that getting involved would recreate a bit of Gran story warmth. I'd also missed researching since completing my history degree, and was looking to get some cogs turning again. Fairly naively, at that point I hadn't considered the lack of recognition about Glasgow wimmen's contribution to the city's history. Very quickly it became clear that there were a wealth of stories about women's achievements to be told, shared and celebrated.
Working collectively on the project for the West End walk pulled me into a world of research. Investigating information was a bit like digging for research treasure, I could easily while away an afternoon in the archives looking for the nugget of a story. I found it genuinely empowering and inspiring how these voices and stories could cross decades and strike a chord with women in the 21st century.
Learning about these strong, defiant, groundbreaking women has helped shape my outlook on women's history as a whole, and, consequently, given me a better understanding of my own identity.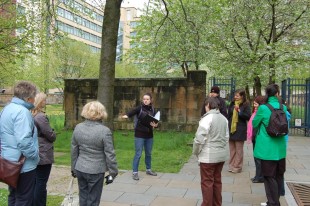 From originally just planning to be part of the research team, I ended up being a tour guide on the walks themselves, an achievement that wouldn't have happened without the supportive, trusting and encouraging environment that surrounds the project, perpetuated by all the staff team at the library and by fellow history detectives. Mostly undeterred by Glasgow's weather, I've now lead a number of walks. It's a heartening experience when those who come on the tour can identify with the women we discuss and, in turn, be inspired by them.
I'm now working within Glasgow Museums as a Learning Assistant (with a new role doing live interpretation) and working on the second tour to come from the library – the Merchant City walk.
*written in 2008