We recently received a collection of archives from the Josephine Butler Society. Founded by Josephine Butler (1828-1906) herself in 1869, the Society was first known as the Ladies National Association. It was set up to oppose the Contagious Diseases Acts of 1864, 1866 and 1869. These Acts were passed in order to reduce the increasing rates of venereal disease and numbers of prostitutes commonly found within the vicinity of military barracks. Controversially, the 1869 Act forced any women suspected of being a prostitute to be examined and if found to be infected to be quarantined in a 'Lock Hospital' for up to three months. The LNA campaigned against such measures which criminalised and disproportionately blamed women. In 1886 the Contagious Diseases Acts were repealed.
The LNA also campaigned against child prostitution and the trafficking of women to brothels in Europe; in 1885 their efforts were rewarded when the Commons passed an Act to increase the age of sexual consent to 16 and introduced measures to suppress brothels and prevent trafficking. In 1915 the LNA amalgamated with the British Branch of the International Abolitionist Federation (IAF) – which was also founded by Josephine Butler – to become the Association for Moral and Social Hygiene (AMSH). The society adopted Josephine Butler's name in 1962. Today the Society still acts as a pressure group campaigning against the legalisation of prostitution, the trafficking of women and the marginalization of those vulnerable to being forced into this profession. Its values are 'social justice' and 'equality of all citizens before the law'.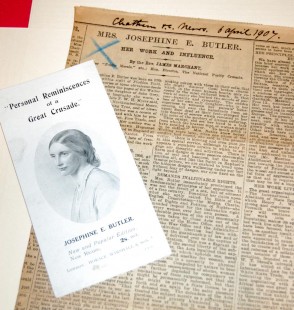 The collection donated to Glasgow Women's Library includes copies of the Society's monthly publication, The Shield, reports relating to the Contagious Diseases Acts and the various Commissions set up to investigate and review them, memorial notices relating to Josephine Butler, copies of The Dawn, vigilance records, pamphlets, correspondence, and press cuttings and notes relating to police women within Scotland. The full collection has been listed and is in the process of being catalogued.
If you would like to see any items from this collection please contact the Archivist. [provide contact link] We are very grateful for this donation and for the volunteers who have helped to re-house and sort it.