This Is Who We Are: East End Women's Heritage Walk (Fully Booked)
13th October, 2013 at 2:00 pm

-

4:00 pm

Free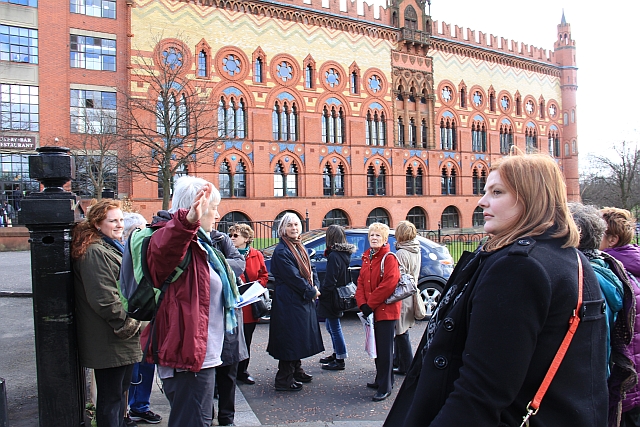 This Is Who We Are
To celebrate moving into our new home, over the next Autumn months we will be holding a series of talks and walks about who we are and what we do.
We will also be introducing some of the Firebrand Women from our collections: the Suffragettes, the women who were instrumental in the Peace Campaigns, Red Clydeside and the Rent Strikes. In addition to this we will showcase our Badges of Honour and 21 Revolutions projects, and take in a women's heritage walk of the East End.
East End Women's Heritage Walk (Fully Booked)
Contact us to put your name on the waiting list.
Sunday 13th October, 2pm to 4pm (free)
Join Women Make History tour guides on our most recently developed Women's Heritage Walk, grant-aided by Glasgow City Heritage Trust and Historic Glasgow.
Researched by learners and volunteers at the Library, this women's heritage walk uncovers the hidden heroines of Glasgow's East End. If you are interested in finding out more about the women who worked in the Templeton factory, Suffragettes who were held in Duke Street Prison, or the woman who set up the Barras (and much more) then this is the perfect way to spend your afternoon.
Other This Is Who We Are events this Autumn:
An Introduction to the Women's Library
Tuesday 1st October, 5.30pm-7pm (free)
Bridgeton Library, Olympia Building
Glasgow Women's Library, the only women's library in Scotland, is moving to Bridgeton. In this informal session, members of the library team will share their vision for the future and answer any and all questions about our work. Come and meet the team. 
Firebrand Women: The Suffragettes
Thursday 10th October, 5.30pm to 7pm (free)
Come along to GWL and find out about the local women who campaigned for women's suffrage.
Firebrand Women: Peace Campaigners
Thursday 14th November, 5.30pm to 7pm (free)
From Greenham Common to Faslane, from Trident to Polaris; women have been instrumental in campaigning against nuclear weapons, coming up with new and imaginative forms of non-violent action.
Booking
These events are free of charge. Please click here to book your free place(s) or contact us on 0141 248 9969 for more information. Please be sure to let us know which of the events you wish to attend. If you want to book for the East End Women's Heritage Walk this event is now fully booked. You can still put your name down on a waiting list.

These events are supported by Clyde Gateway.
Related Events