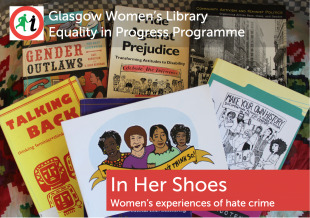 In April 2016, Glasgow Women's Library was awarded funding to deliver our new project 'In Her Shoes'. The project aims to produce innovative and accessible prejudice reduction resources for organisations and institutions in Scotland underpinned by women's experiences of intersectional hate crime and behaviours. We will explore the way that gender intersects with hate crime and behaviour targeting women's sexuality, disability, race or ethnicity, religion or belief and gender identity.
In the course of the coming year, new resources will be developed on women's experiences of intersectional hate crime and behaviours including a community mapping artwork, a film, a permanent training programme, workshop session plans, an intersectional hate crime symposium and online resources.
The project will increase the number of opportunities for women experiencing prejudice, discrimination and hatred to talk about their feelings, opinions and experiences, whilst challenging their own attitudes and behaviours.
We will:
Facilitate 'Experience Analysis Workshops' to research women's experiences of hate, prejudice and targeted hostility and to understand the physical and emotional harms suffered by women and their families.
Facilitate 'Empowerment Workshops' with women who have experienced hate crime to build the self-esteem to challenge the prejudice against them. Workshops will explore historical and contemporary creative methods of black, lesbian and feminist art activism.
Facilitate women's 'Collective Action Workshops' to develop a 'hate crime map' combining performance with art activism.
We will work in partnership with two Glasgow FE Colleges to provide students and staff with the opportunity to attend the live production of a 'hate crime community map'. In doing this we will:
Carry out research into attitudes, perceptions, behaviour, experiences and levels of awareness of students and staff.
Engage staff and students on safe methods of bystander intervention and third party reporting of hate crime and behaviours.
Culminating in a 'Gender and Hate Crime Symposium' in March 2017, we will form a network with academics from Kent, Stirling, Glasgow and Edinburgh Universities with input from Engender, Rape Crisis and Scottish Women's Aid on the implications of including gender as a hate crime in cases of rape and domestic abuse in Scotland.
Glasgow Women's Library is a Third Party Reporting Centre for Hate Crime. We can support and sign-post you if you have experienced a hate crime.
If you would like to participate in 'In Her Shoes' to share your experiences and take action to reduce prejudice and discrimination, please contact Development Worker Rachel Thain-Gray at
rachel.thain-gray@womenslibrary.org.uk