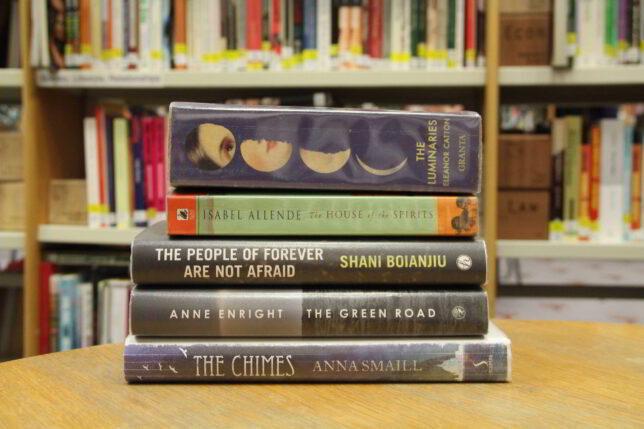 Glasgow Women's Library's book group is welcoming and inspiring, connecting women who like reading with each other and to a host of amazing and surprising new reads.  The book group is one of the Library's longest running and most popular regular groups, meeting approximately once a month at the Library.
As times and technologies have changed in the 10+ years since our book group was created, we've thought about ways in which we can connect to even more women and spread a little of the book group magic to a wider audience. With this in mind, we present the GWL Digital Book Group!
The digital branch of the GWL book group will complement the book group that meets at GWL, looking at the same books but discussing them in a slightly different format. This will enable people from across Scotland, the UK and (we hope) internationally to take part in discussions around books written by women and engage with GWL even if they can't make it through our doors.
Taking part in our GWL Digital Book Group is easy and you can get as involved as you like. If you'd like to keep up-to-date with the latest read and our online discussions, sign up to our newsletter below to receive a once a month update. If you'd rather check our website for information, keep an eye on this page to keep abreast of all the latest content and discussions around our latest book. You can follow us on Facebook and Twitter and keep an eye out for our #GWLBookGroup hashtag. We've also created a closed Facebook group where we can connect and have discussions – just request to join the group if you'd like to join.
We're really excited about this online ambition and we hope that you'll join us in discussing and celebrating books by women. If you like the sound of our new book group but you're a little new to digital technologies or you have any questions or suggestions, please do get in touch with us.
August's Book
August's book is Sleeping on Jupiter by Anuradha Roy, winner of the 2016 DSC Prize for South Asian Literature. This is a stark and unflinching novel by a spellbinding storyteller, about religion, love and violence in the modern world.
A train stops at a railway station. A young woman jumps off. She has wild hair, sloppy clothes, a distracted air. She looks Indian, yet she is somehow not. The sudden violence of what happens next leaves the other passengers gasping.
The train terminates at Jarmuli, a temple town by the sea. Here, among pilgrims, priests and ashrams, three old women disembark only to encounter the girl once again. What is someone like her doing in this remote corner, which attracts only worshippers?
Over the next five days, the old women live out their long-planned dream of a holiday together; their temple guide finds ecstasy in forbidden love; and the girl is joined by a photographer battling his own demons.
The full force of the evil and violence beneath the serene surface of the town becomes evident when their lives overlap and collide. Unexpected connections are revealed between devotion and violence, friendship and fear, as Jarmuli is revealed as a place with a long, dark past that transforms all who encounter it.