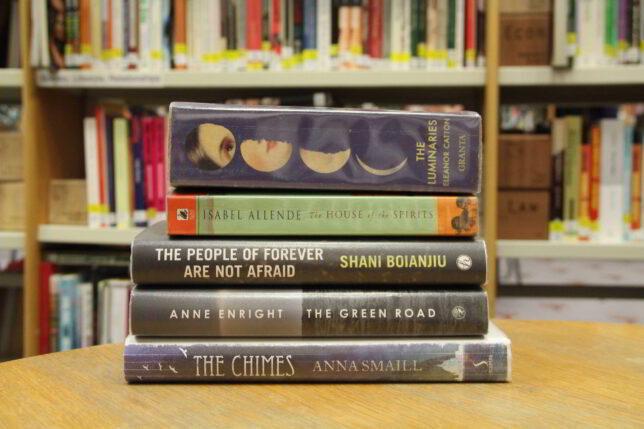 Glasgow Women's Library's book group is welcoming and inspiring, connecting women who like reading with each other and to a host of amazing and surprising new reads.  The book group is one of the Library's longest running and most popular regular groups, meeting approximately once a month at the Library.
As times and technologies have changed in the 10+ years since our book group was created, we've thought about ways in which we can connect to even more women and spread a little of the book group magic to a wider audience. With this in mind, we present the GWL Digital Book Group!
The digital branch of the GWL book group will complement the book group that meets at GWL, looking at the same books but discussing them in a slightly different format. This will enable people from across Scotland, the UK and (we hope) internationally to take part in discussions around books written by women and engage with GWL even if they can't make it through our doors.
Taking part in our GWL Digital Book Group is easy and you can get as involved as you like. If you'd like to keep up-to-date with the latest read and our online discussions, sign up to our newsletter below to receive a once a month update. If you'd rather check our website for information, keep an eye on this page to keep abreast of all the latest content and discussions around our latest book. You can follow us on Facebook and Twitter and keep an eye out for our #GWLBookGroup hashtag. We've also created a closed Facebook group where we can connect and have discussions – just request to join the group if you'd like to join.
We're really excited about this online ambition and we hope that you'll join us in discussing and celebrating books by women. If you like the sound of our new book group but you're a little new to digital technologies or you have any questions or suggestions, please do get in touch with us.
October's Book
October's book is Northanger Abbey by Val McDermid.
McDermid's Northanger Abbey is an updated take on Jane Austen's classic novel about a young woman whose visit to the stately home of a well-to-do acquaintance stirs her most macabre imaginings. A homeschooled minister's daughter in the quaint, sheltered Piddle Valley in Dorset, Cat Morland loses herself in novels (and, of course, her smartphone) and is sure there is a glamorous adventure awaiting her beyond the valley's narrow horizon. So imagine her delight when her neighbors, the Allens, invite her to attend the Fringe Festival in Edinburgh as their guest.
Cat quickly begins to take Edinburgh by storm and is taken into the bosom of the Thorpe family, particularly by eldest daughter Bella. And then she meets handsome Henry Tilney, who lives at the beautiful and forbidding Northanger Abbey. Cat is entranced by Henry and his charming sister Eleanor, but she can't help but wonder if everything about them is as perfect as it seems. Maybe she has just been reading too many novels?