"Be curious, be interested and love… your stories and your artwork will flourish." Val McDermid spoke the final words of Open the Door 2017, bringing this inaugural day-long literary gathering to a close and at the same time beautifully summing up the warm and convivial nature of the discussions and conversations that the festival provoked.
Open the Door took place on Saturday 13th May and was Glasgow Women's Library's first foray into the world of literary festivals. GWL set out to create a new literary festival that puts women to the fore in a new kind of format, where the more formal audience and speaker setting is replaced by a memorable shared experience. The day of events more than achieved this aim and created a warm and intimate festival with lively discussions and debates that indicates an appetite for a different kind of literary festival format. From curiosity to world-building and film noir to the battle to get published, Open the Door emphasised the real need to provide a platform for discussions around women writers and readers in Scotland.
This landmark gathering began with an afternoon tea where writers and readers sat side by side and quotes chosen by GWL were used to provoke discussions. Zoe Venditozzi expertly hosted the afternoon and guided the room from one quote to another. As each quote was announced and tables were given the chance to discuss it, the room would pause for a 'spotlit discussion' where the focus would shift to two of the authors at one of the tables and we'd hear their thoughts on the quotes and on other burning issues.
Mary Paulson-Ellis and Ajay Close had a lively discussion about the road to getting published and whether you need to tailor your art to what the publishers want. Laura Waddell and Leila Aboulela spoke eloquently on being a reader (and what that actually means) and finding representations of yourself, your culture and your identity, in literature. Jen Hadfield and Nadine Aisha Jassat had a refreshingly personal discussion around voice, dialect and their Grandmothers –Hadfield's Grandmother is 110 years old! They also touched on the courage needed by women to speak about things that are not easily voiced. Finally, Kaite Welsh and Jo Clifford had a vital discussion about writing as activism and the battle against the homogeneity of voices that are most often heard.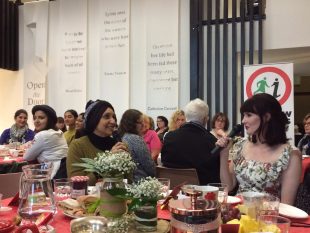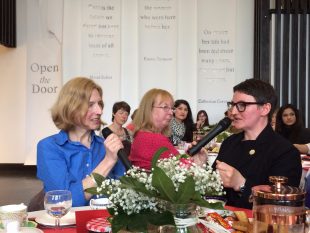 The Open The Door afternoon tea was created to break the mould of traditional literary events and the event yesterday went far beyond this brief, not only sparking meaningful discussions and moments of real connection but inspiring an intimate and creative environment that left authors and audience members alike feeling inspired and ready to create. This was an event where the input of all was encouraged and valued.
The second event of the day was the free networking event, where writers, agents, publishers and readers continued the trend of vital discussions and literary chit-chat as they browsed a pop-up book stand run by Waterstones and stands by publishers such as Vagabond Voices and Saraband.
The final event of Open the Door was a Herland special, a literary salon combining cocktails, mocktails and a raft of women writers: Kirsty Logan, Sim Bajwa, Val McDermid, Lesley McDowell, Louise Welsh and Ishbel McFarlane. Kirsty Logan was the Mistress of Ceremonies and she expertly introduced each act and held the night together.
The first performance of the night was a hilarious lecture by Ishbel McFarlane on "The 'Long Sixteenth Century' in Venetian Art" that brilliantly commented on feminism and academia. After Ishbel had warmed up the crowd, Lesley McDowell and Louise Welsh held a scintillating dialogue on Rebecca by Daphne du Maurier, particularly looking at the Alfred Hitchcock film and the elements of gothic and film noir. Sim Bajwa then took us through her inspirations as a fantasy author, looking at world-building and how to actively pursue inspiration and avoid waiting for the muse to descend.
The night was then rounded off with a mistress-class in public speaking by the inimitable Val McDermid, who took us through her inspirations from library books to landscapes and music to castles, ending with, as is quoted in the beginning of this post, the importance of curiosity, interest and love. 
In her introduction to Open the Door, GWL's Adele Patrick said "we are making history today with this festival". Whether the legacy of Open the Door is to shake-up the literary festival genre, to nurture the seedlings of creativity in a new generation of women writers or simply to mark the beginning of a new yearly festival, it's undeniable that this event felt new, fresh and historic to those taking part.
We would like to give a warm thanks to all those who helped make this Open the Door happen. In particular thanks to GWL volunteers, the writers, poets, and publishers, those who have bought tickets, those who have supported our Pay it Forward Fund, and our sponsors: Glasgow Life, Canongate Books, Saraband Publishers, The Tannahill Fund – University of Glasgow, Edinburgh International Book Festival, Waterstones, Mono, McCune Smith, Tunnocks, Cafe Gandolfi, Redmond's, Tesco, and Morrisons.
We'll be posting content from Open the Door on our website over the next couple of weeks.