Last month we were delighted to announce the creation of the digital branch of our popular GWL Book Group. The GWL Digital Book Group will complement the Book Group that meets at GWL, looking at the same books but discussing them in a slightly different format. This will enable people from across Scotland, the UK and (we hope) internationally to take part in discussions around books written by women and engage with GWL even if they can't make it through our doors.
May's book is The Chimes by Anna Smaill, a debut novel that was longlisted for the 2015 Man Booker Prize. This stunning dystopian debut tells the story of a totalitarian regime that inflicts amnesia through music. Anna's background as a musician and poet imbues her prose with a rich, tense power that pulls the reader into a world that will captivate, enthral and inspire. The Guardian described The Chimes as 'fresh and complex' in a review that you can read here.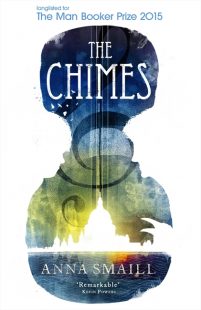 We'll be posting content related to May's book on this blog but we'll also be hosting discussions on Facebook and Twitter so you can choose how involved you'd like to get in our discussions. On Facebook we've created an event where we can gather all of the content and the discussions so that you don't have to go hunting for posts. On Twitter, keep an eye on the #GWLBookGroup hashtag for all the related tweets.
We'll be running two Twitter chats around The Chimes at the end of the month on Wednesday 31st May at 1pm and 7pm. These chats will feature the same starting questions but you are welcome to join in on both.
Excitingly, Anna has agreed to answer a selection of reader questions around The Chimes. If you have a question for Anna, send it in to us by emailing hannah.wright@womenslibrary.org.uk. We'll send these to Anna later in the month and will post her answers here on our blog.
Happy reading!